Blog/Politics
Posted Feb 28, 2019 by Martin Armstrong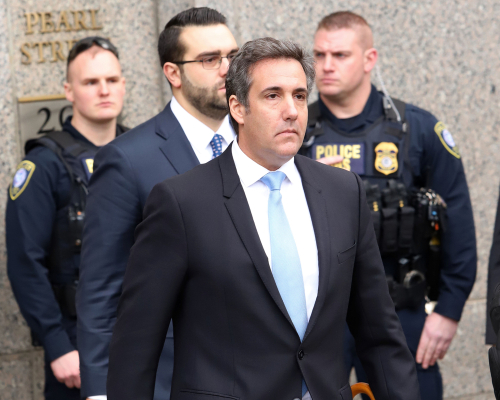 While historically there have been three major events that altered political history, everyone on the left are cheering Cohen for what they hope will be the fourth. The first was the Supreme Court decision in the "Dred Scott v. Sandford" case which led to the founding of the Republican Party, and ultimately to the American Civil War, holding that blacks were effectively property. Then there were the "Army McCarthy Hearings," which contributed to the downfall of communist-hunter Joe McCarthy showing he just made up stuff. Then the final event was the Watergate hearing before the US Senate — the beginning of the end of the Nixon era.
Cohen testified that he had been in the room during the election campaign when Donald Trump telephoned Roger Stone who then told Trump that Julian Assange of Wikileaks had told him that he would soon publish emails that would harm Hillary Clinton. Cohen stated that Trump's reaction was: "Would not that be great." But the allegations that these were obtained came after that fact and was asserted by Democrats who merely said that it appeared to be Russians who hacked the emails. That is really nothing explosive.
The next bombshell was when Cohen testified that on behalf of Donald Trump, he had paid hush money to porn actress Stormy Daniels and a Playboy model so that the American public would not learn about the affairs that Trump had entertained with these two women. Under US law, such payments are considered illegal campaign contributions which is really a stretch and appears to be manufactured by prosecutors for political purposes. Cohen stated that Trump paid back the hush money in installments when he was president – not before so that cannot be construed as a campaign contribution after the fact.
Nevertheless, to pay a bribe to someone to keep quiet that comes from their personal account and not campaign funds raised from the public hardly seems to be a crime. This is a completely new theory of law and if I were Trump I would file for a Declaratory Judgment. Merely that Cohen pleads guilty to this theory and personal tax evasion does not make it a crime. Since Cohen has pleaded guilty and is sentenced to 3 years in prison, he should not be walking around free. Anyone else would have been taken into custody at sentencing. Clearly, there is a backdoor deal going on here in New York.
The final political statement was Michael Cohen lied to Congress that Donald Trump had business with Russia. In fact, Trump, while conducting his election campaign was busy executing a lucrative real estate deal in Moscow. Nonetheless,  that deal turned out to be nothing. Cohen then claimed that Trump knew he was lying to Congress, by concedes he did not order him to lie.
Michael Cohen calls President Trump a racist, con man, and cheat during his opening statement before the House Oversight Committee. Throwing in the term "racist" is clearly a word selected for political purposes. Cohen says Trump overstates his worth for loans and understands it for taxes. There is not a single public company that I know of who does not practice those allegations. Even HR Block promises to make sure you pay the least tax. That is the role of an accountant. This too seems crafted to create headlines for 2020.
Therefore, nothing that Cohen actually testified to is a crime and it is more designed to try to ensure Trump does not win in 2020. Cohen should be in jail right now. He is walking around like a dog on a leash for prosecutors trying to take down a seating president.
The timeline is seriously flawed. For Stone to even say that Wikileaks is about to publish emails on Hillary is not a crime and there are many people who knew what was coming. That does not link Trump to Putin or shows that Trump directed Putin to get Hillary's emails.
This appears to be more of the Deep State hard at work but in the process, they are undermining the entire confidence in government. The mere statement that Trump is a racist who thinks blacks are stupid is clearly made for political reaction to harm Trump in 2020. This man was his attorney and his testimony demonstrates that the oath of lawyers and the Attorney client-privilege has been seriously broken. Anyone would never hire him in such a role. He just committed career suicide.