Blog/Politics
Posted Aug 21, 2018 by Martin Armstrong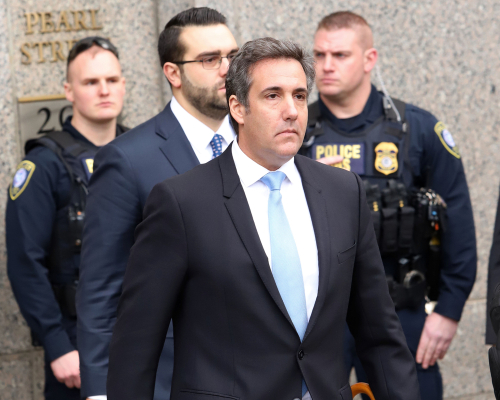 The world of politics is coming unglued today with Trump's campaign chairman Manafort convicted on 8 felony counts. None of this really implicates Trump, but the real problem is with his former lawyer Michael Cohen who is pleading guilty on 8 felony counts directly implicating Trump in campaign violations. The Justice Department in New York City has been after Trump personally and by forcing Cohen to plead they get what they have desired. The prosecutor will write the words and Cohen MUST say whatever the prosecutor tells him or there is no deal. 
Legally, people are supposed to plead in their own words. That never actually happens.
They are really out to take Trump down. The Stormy Daniels pron star, whose legal name is Stephanie Clifford, was paid $130,000 by Cohen. She has since filed a civil lawsuit to be released from a "hush" agreement over her affair. Daniels' attorney, Michael Avenatti, is obviously doing this for political advantages because for a lawyer to take on a case to challenge $130,000 is absurd. What is she going to say anyway? She had sex with Trump? OK! She's a porn star who is paid for sex. Next? If she has to give the money back to speak, she would never be able to really make anything after the legal fees. She's getting a bit too old for a porn star. Is there is a backstreet game going on here? I would guess that her lawyer is probably doing this pro bono or is being paid by other sources just to take Trump down as president?
Avenatti, Daniel's lawyer pictured here, has publicly stated that with Cohen's plea, this "will permit us to have the stay lifted in the civil case & should also permit us to proceed with an expedited deposition of Trump under oath about what he knew, when he knew it, and what he did about it." Aventatii was also behind providing MSNBC with a video which aired on the June 25, 2018, episode of The Rachel Maddow Show, which was of a child in the custody of immigration. So he has been involved it seems in actions targeting the Trump administration. It has been reported that he has deep ties to Rahm Emanuel and Joe Biden. It is Joe Biden who seems to be positioning himself to run for president and taking down Trump would be the tactic to get Joe Biden in the White House to come 2020.
Clearly, that threat shows that Avenatii may be allegedly working with others to overthrow Trump at any cost. In any event, these conspirators have completely not understood even why and how Trump was elected. The people are NOT going to support career politicians and they are not prepared for more taxes and an expansion of the socialist agenda. We may be looking back at this week as a political turning point that will lead to major civil unrest and perhaps a civil war in the years ahead.