Blog/Politics
Posted Aug 6, 2020 by Martin Armstrong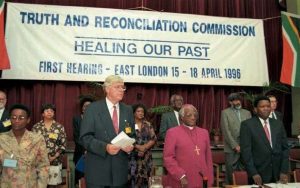 QUESTION: Hi Marty,
After Apartheid, South Africa assembled the Truth and Reconciliation Commission. Do you think there is any chance that in five or so years that we could have a similar commission where politicians, business leaders, scientists and media figures admit their crimes and lies in exaggerating the virus? In such a commission victims can also give statements about the lives and livelihoods lost due to the fake lockdown.
SMD
ANSWER: I seriously doubt that will happen near-term. Perhaps it will occur after they have destroyed everything post-2032, and those who thought the left would be Utopia discover that they too will surrender all their freedom. We are in such a political crisis where the right just wants to be left alone and the left demands they are subjugated and reduced to economic slaves. This is certainly not the country I had thought I lived in. My family has fought in every war since the American Revolution. My cousin still has the musket on the wall from the Revolution. All I can do is hope for is the breakup of the United States to be able to live in peace or be forced to leave. Perhaps this is the choice many of our ancestors had to make to leave Europe in search of freedom.
This political crisis has devolved into such hatred it is unimaginable. It began with Hillary calling anyone who voted for Trump "deplorable" and this has escalated into not just class warfare, but race, political warfare, and an all-out war against the history and the past. Even the US military base in the Indian Ocean is under attack because the USA leases it from Britain and they are calling this colonialism. We are declining into the collapse of Western Civilization as we have known it. There is nothing that will stand the test of time. Everything offends someone and civilization requires cooperation where everyone benefits by coming together. This rising tide of hatred is tearing everything apart. Perhaps now you will understand why Socrates' forecast that the United States and the European Union will break apart. Our civilizations cannot be maintained with such hatred and confrontation.
You cannot allow one philosophy to subjugate everyone else. That is NOT what a free society is all about. You cannot allow even religion to take control of government (i.e. Iran). What if that Muslim Shiye philosophy took hold in the USA and Congress then enacts laws that women must wear hijabs, niqab veil burqas, jilbabs, or face covers to uphold Islam tradition? Whatever the philosophy or religion one group has, they have no right to impose it upon everyone else. We have reached the point where the United States is no longer a free society. There is no respect for human rights, which includes the right to be left alone to pursue your life, liberty, and happiness. What you earn is not respected and you can no longer try to build wealth for your family to leave behind, for even that is subject to confiscation under inheritance taxes.