Posted Oct 24, 2022 by Martin Armstrong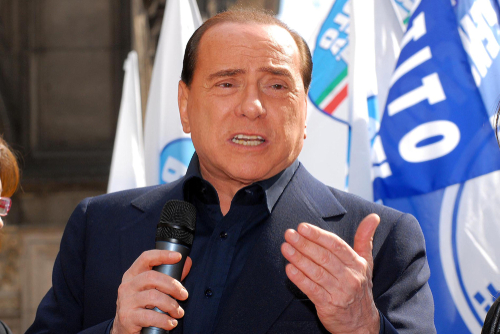 Former Italian Prime Minister Silvio Berlusconi has close ties to Vladimir Putin. Berlusconi, leader of the Forza Italia party, now serves as a junior partner under new PM Giorgia Meloni. Meloni fiercely supports Ukraine, but leaked audio indicates where Berlusconi stands.
"I can't personally give my opinion because if it is told to the press it will turn out to be a disaster, but I am very, very, very worried. I rekindled relations with President Putin, a little bit. I knew him as a peaceful and sensible person," the former PM said in a leaked audio recording. He also said in the recording that Russian ministers believe they are at war with the West because of the funding to Ukraine.
How close are the two men? Well, Berlusconi sent Putin a duvet cover depicting a picture of them together as a gift for Putin's 65th birthday. Putin recently sent Berlusconi numerous bottles of vodka for his 86th birthday, sparking outrage from European leaders. Before Meloni was elected, Berlusconi appeared on TV (see video above) and said that Russia had been "pushed" to invade Ukraine and that the goal was to replace Zelensky's government with "decent people."
Now Meloni is doubling down on her support for Ukraine and threatening to remove Berlusconi. "Whoever isn't in agreement with this cornerstone, will not be able to be part of the government, even if it means no government," she said.
While the people do not take Berlusconi very seriously, no one wants war. There is civil unrest throughout the Western world taking place as the people see the inevitable outcome. Our computer indicates that civil unrest will spike massively going into 2023. For now, anyone showing sympathy toward Moscow will be shunned. That may change as people grow to resent Zelensky for pushing their country into war.