Posted Feb 19, 2022 by Martin Armstrong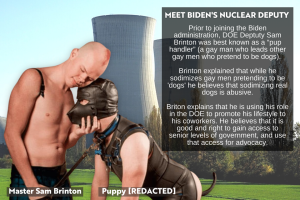 Morals and values have been discarded in Biden's America. Biden's latest hire Sam Brinton will join the Department of Energy's (DOE) nuclear power office as the second-in-command of nuclear waste issues. Brinton earned his bachelor's degree in mechanical engineering from Kansas State and completed a dual master's program at MIT. "[B]y day I work to save lesbian, gay, bisexual, transgender, queer and questioning (LGBTQ) youth from suicide, and by night I work to save the world from nuclear waste-related environmental disaster," Briton told reporters.
While his preventative measures to combat LGBTQ youth suicide are admirable, is this person (identifies as they/them) really the best candidate for the job, or did Biden install Brinton as part of his woke agenda? Love is love, and his sexual preference has no impact on his job performance to any degree. But, you see, Brinton has a dark not-so-secret life that should lead many to question his mental health and morals.
Deputy Brinton identifies as a "pup handler," meaning.. oh boy… well you can click on the link for the full description. Brinton does not hide his world and has advocated for his lifestyle very openly. In an effort to promote inclusion and diversity, Biden has gone too far. In the time of woke culture, anyone questioning Brinton will be deemed a transphobic "normie" who is filled with hate. His colleagues will be deemed transphobic as well if they question his actions even if they are unrelated to his specific life choices. If you search his name, more information comes up about his sexual preference than anything relating to America's nuclear waste issues. Sam Brinton has every intention of using his new position to promote this perverted lifestyle.
The agenda to dismantle the American nuclear family and make taboo acts seem normal is in full swing. I'd prefer not to dig down the rabbit hole of this person's specific lifestyle preference, but I question his mental health and Biden's mental health for placing him in charge of our country's nuclear waste problem. This is truly disturbing all around.