Blog/Agriculture
Posted Oct 22, 2021 by Martin Armstrong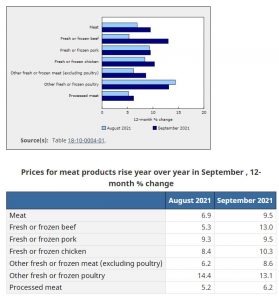 (Image from Statistics Canada: Prices for meat products rise year over year in September)
Canada's CPI rose 4.4% YoY this September, according to Statistics Canada. Every major sector saw gains, but meat prices spiked 9.5%, marking the fastest pace of growth since April 2015. Canada's Food Price Report for 2021, released in December 2020, predicted that meat prices would rise 4.5% to 6.5% in 2021, a drastic underestimate. Dr. Sylvain Charlebois, project lead and Director of the Agri-Food Analytics Lab at Dalhousie University warned people that they should develop "immunity" to rising prices. "Immunity to higher food prices requires more cooking, more discipline and more research. It's as simple as that." Gaslighting the people to believe they need to change their lives, rather than government change their policy, is at play once again.
Let me remind you that Bill Gates and others have been advocating for a move to 100% synthetic beef. But his logic only applies to the "rich" countries such as the US and Canada. "Weirdly, the US livestock, because they're so productive, the emissions per pound of beef are dramatically less than emissions per pound in Africa," Gates said in an interview in February 2021. "So no, I don't think the poorest 80 countries will be eating synthetic meat. I do think all rich countries should move to 100% synthetic beef. You can get used to the taste difference, and the claim is they're going to make it taste even better over time. Eventually, that green premium is modest enough that you can sort of change the [behavior of] people or use regulation to totally shift the demand." This ties into the climate change agenda and the idea that starvation can help us shift to zero CO2. I should mention that the article added a disclaimer that Bill Gates is an "investor either personally or through Breakthrough Energy Ventures in several of the companies he mentions below, including Beyond Meats, Carbon Engineering, Impossible Foods, Memphis Meats, and Pivot Bio."
Biden and Trudeau have made it known that they are on board with the climate change agenda, so that could be a preview of what is to come. Back to Statistic Canada's December report – the forecast lists COVID-19 restrictions and the oil price war for rising food prices. Perhaps a certain pipeline could have assisted the fuel crisis. Yet, Biden rescinded the permit early in his presidency, and Trudeau feigned disappointment but did not push back on the matter. Basically, the two main components that the report notes are somewhat within government's control.
How will this affect Canadian families? So far, the average food expenditure for a family of four is C$13,907, a 5% increase of C$695 compared to last year.