Blog/North America
Posted Nov 4, 2022 by Martin Armstrong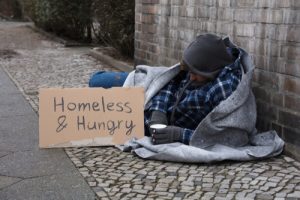 Oregon is a beautiful picturesque state. Mountains, waterfalls, and beautiful beaches – Oregon was once a desirable place to live. Portland was a promising metropolitan area before politicians completely destroyed the city with light-on-crime policies.
 The Portland Business Journal reported that high-earning residents relocated to areas like Deschutes County, Arizona, and Texas. As in all societies, the highest earners who have the ability to relocate are the first to flee crumbling cities. Multnomah County saw a decline of 2,000 taxpayers between 2019 and 2020, but more have likely fled.
As of June, the average rent in Portland was $1,700, but many will tell you that estimate is low. This is not why homelessness has spiked. Over the past two years alone, the homeless population increased by 25%! Homeless camps have moved into the suburbs as people simply have nowhere to go. The city has attempted to authorize homeless encampment sites in certain areas, but there is not enough room. Portland Mayor Ted Wheeler (D) has done nothing to address the mental health and drug abuse crises at the root of the problem. This is an extremely sad situation, as no one should live in this manner.
The pandemic added to the crisis, but Portland declared a state of emergency back in 2015 due to the drastic number of unhoused people. Oregon legalized hard drugs in February 2021. People may legally carry heroin, cocaine, methadone, oxycodone, and even methamphetamine for personal use. Most users will only face a $100 fine. Drug overdoses rose by 41% in 2020 from the year prior.
As we have seen in many Democrat-run cities, theft is basically legal. The Organized Retail Crime Association of Oregon (ORCAOR) conducted a poll that found 95% of businesses are unhappy with the relaxed crime laws, and 80% admitted theft had risen significantly. "We've seen an increase in assaults, in drug use within the stores, threats, individuals threatening with weapons," said Jeremy Girard, the president of ORCAOR, who conducted the survey in late spring. Around 80% said there was not an adequate police response, but that is because they voted to defund the police and urged them to turn a blind eye to crime.
Businesses are closing, and people are fleeing the city. The Oregon Mayors Association wants to spend $123.5 million annually to prolong the problem rather than address the causes. Another example of poor policies ruining a blue city and asking taxpayers for more funding to throw money at the problem.