Blog/USA Current Events
Posted Oct 6, 2022 by Martin Armstrong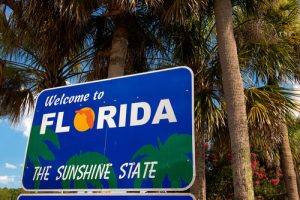 Those of us in the Tampa Bay area were lucky. Floridians in the eye of the storm experienced devastating floods and winds. At least 109 people are dead, and 55 of those deaths are in Lee County, Florida, alone. A friend of mine has family in Punta Gorda in Charlotte County. They were unable to reach their family by phone for days as the power grid went down. As of Tuesday night, 400,573 people in Florida were still without power. So, while the storm did not head in the originally reported direction, significant damage occurred.
Mark Friedlander, spokesman for the Insurance Information Institute (III), said those in the Sunshine state pay three times the national average at $4,231. In July, the Florida Office of Insurance Regulation deemed 27 different insurance companies as not financially stable. There is now a risk more insurance companies will fail.
Florida's insurance agencies are in a panic. Six insurers have already claimed insolvency this year despite the last few hurricane seasons being pretty tame. Property insurance has skyrocketed by up to 50% in the past year alone for some homeowners and will likely continue to rise. Insurance, regardless of what insurance we are discussing, be it dental or health, only covers certain areas.
"There's a lot of folks that have a homeowner's policy. And sometimes they're told that that could also be for flood and those are just different policies. The homeowners' is from the wind, direct storm damage; the flood insurance obviously from rising waters," Governor DeSantis explained. Only 13% of Floridians have flood insurance, and those not covered will be forced to rely on FEMA grants, which take a long time to process.
To help displaced Floridians, Biden is sending more money to Ukraine. With the leftovers, Washington will pay for rescue efforts, debris clearing, and rebuilding of public infrastructures. People can file claims with insurance companies, but they are certain to deny as much as possible, especially since many do not have the funding to process all claims. The attorneys point the finger at the insurance companies while the insurance companies blame litigation and greed. Lisa Miller, the State of Florida's former Deputy Insurance Commissioner, explained that 80% of the nation's litigation is in Florida. DeSantis also vowed to "get rid of the scams and litigation."
There is a price to pay for living in paradise. The total cost of the storm is still being assessed, and it will take a significant amount of time to fix the areas that were hit hard. The insurance companies in Florida were already facing hardship prior to the hurricane and this incident could be the catalyst for numerous failures.