Posted Nov 8, 2022 by Martin Armstrong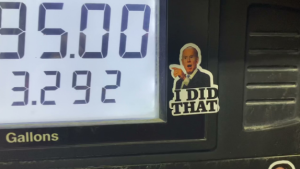 Remember when America was energy independent? Gas was under $2 per gallon, the Strategic Petroleum Reserve was full, and our lawmakers did not have to grovel at the feet of our adversaries who are declining to help us anyway. The only reason America has an energy crisis is because Joe Biden eliminated domestic energy efforts on his first day of office. Now, he is assuring voters that the Biden Administration will keep energy prices inflated.
"No more drilling," Biden said to a climate change protestor while campaigning for New York Governor Kathy Hochul. "There is no more drilling. I haven't formed any new drilling," Biden stated. When questioned about offshore drilling in the Gulf of Mexico, Biden said he planned to eliminate that project as it began before he took office.
A few days earlier, Biden promised to destroy America's coal sector. Biden touted that wind and solar technology is cheaper, as he clearly does not realize they cannot replace coal at this time. "So it's going to become a wind generation. And all they're doing is it's going to save them a hell of a lot of money, and using the same transmission line that they transmitted the coal-fired electric on, we're going to be shutting these plants down all across America," the president stated.
Biden is suggesting that coal miners simply become computer programmers. "Anybody who can go down 300-3,000 feet in a mine sure as hell can learn how to program as well," Biden said at a campaign event. "But we don't think of it that way. Anybody who can throw coal into furnace can learn how to program, for God's sake." The war on fossil fuels will continue under the Democrats.