Blog/2016 U.S. Presidential Election
Posted Oct 1, 2016 by Martin Armstrong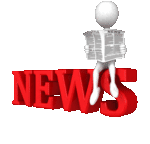 CNBC came out and said it is breaking its non-endorsement policy to say Trump is unfit. While the press should never endorse anyone, this election is revealing just how corrupt the press really is. They are conspiring against the people, if not the entire world, to maintain politics as-is. Yahoo reported, "Getty Images Investor Howard Marks is backing Hillary Clinton even though he doesn't see her as the agent of change the country needs." This is clearly smelling like BREXIT where all the press predicted the collapse of Britain if the people did not surrender their sovereignty to Brussels.
The press is owned by big business and that is the entire problem. All they do is preach their own book. They rely on government for all sorts of perks. Even Michael Bloomberg has said he would endorse Hillary. The Arizona Republic endorsed Hillary saying she was the "only choice." Only four newspaper have endorsed Trump: National Enquirer (March 8, 2016), New York Observer (April 12, 2016), New York Post (April 14, 2016), and  Santa Barbara News-Press (June 2, 2016).
The overwhelming endorsement of Hillary despite all the scandals explains why the press will NOT press Hillary for any real issues regarding her health or conflicts of interest with the Clinton Foundation receiving money from foreign governments in return for her approval of arms deals. This reflects a very serious issue. We may perhaps witness the collapse of this media as the younger generation turns to the internet rather than mainstream media.
Newspaper Endorsing Hillary:
Newspaper State Endorsement date Ref.
Storm Lake Times Iowa January 12, 2016
The Portsmouth Herald New Hampshire January 15, 2016
Foster's Daily Democrat (Dover) New Hampshire January 15, 2016
The Des Moines Register Iowa January 23, 2016
Sioux City Journal Iowa January 23, 2016
Concord Monitor New Hampshire January 24, 2016
The Boston Globe Massachusetts January 24, 2016
The Keene Sentinel New Hampshire January 28, 2016
The Conway Daily Sun New Hampshire January 29, 2016
Iowa City Press-Citizen Iowa January 29, 2016
The New York Times New York January 31, 2016
Monadnock Ledger-Transcript New Hampshire February 4, 2016
The Dallas Morning News Texas February 12, 2016
Tampa Bay Times (St. Petersburg) Florida February 12, 2016
Houston Chronicle Texas February 12, 2016
San Antonio Express-News Texas February 12, 2016
Las Vegas Sun Nevada February 14, 2016
Falls Church News-Press Virginia February 18, 2016
Jewish Herald-Voice (Houston) Texas February 18, 2016
The Greenville News South Carolina February 19, 2016
Corpus Christi Caller-Times Texas February 21, 2016
The Free Lance–Star (Fredericksburg) Virginia February 25, 2016
Star Tribune (Minneapolis) Minnesota February 26, 2016
Fort Worth Star-Telegram Texas February 26, 2016
Detroit Free Press Michigan February 28, 2016
Barre Montpelier Times Argus Vermont February 28, 2016
Rutland Herald Vermont February 28, 2016
Chattanooga Times Free Press
(Times editorial) Tennessee February 28, 2016
Portland Press Herald Maine March 1, 2016
Indy Week (Durham) North Carolina March 2, 2016
Detroit News Michigan March 3, 2016
Miami Herald Florida March 3, 2016
Michigan Chronicle (Detroit) Michigan March 3, 2016
Orlando Sentinel Florida March 4, 2016
Omaha World-Herald Nebraska March 4, 2016
Kane County Chronicle (St. Charles) Illinois March 4, 2016
Sun-Sentinel (Fort Lauderdale) Florida March 4, 2016
The Charlotte Observer North Carolina March 5, 2016
Chicago Sun-Times Illinois March 5, 2016
The Clarion-Ledger (Jackson) Mississippi March 5, 2016
Northwest Herald (Crystal Lake) Illinois March 5, 2016
Jackson Advocate Mississippi March 6, 2016
St. Louis Post-Dispatch Missouri March 6, 2016
The Michigan Daily (Ann Arbor) Michigan March 8, 2016
The St. Louis American Missouri March 9, 2016
South Florida Gay News (Wilton Manors) Florida March 9, 2016
The Cincinnati Enquirer Ohio March 10, 2016
The Plain Dealer (Cleveland) Ohio March 10, 2016
Akron Beacon Journal Ohio March 10, 2016
The Palm Beach Post Florida March 11, 2016
The Missouri Times (Jefferson City) Missouri March 11, 2016
Journal Star (Peoria) Illinois March 13, 2016
The Arizona Republic Arizona March 18, 2016
Idaho Statesman Idaho March 20, 2016
Rolling Stone New York March 23, 2016
Wisconsin Gazette (Milwaukee) Wisconsin March 24, 2016
The Spokesman-Review (Spokane) Washington March 25, 2016
New York Amsterdam News New York March 31, 2016
City Newspaper (Rochester) New York April 5, 2016
The Register-Guard (Eugene) Oregon April 10, 2016
New York Daily News New York April 12, 2016
New York Observer New York April 14, 2016
Newsday (Melville) New York April 15, 2016
The Post-Standard (Syracuse) New York April 15, 2016
The Post-Star (Glens Falls) New York April 16, 2016
The Day (New London) Connecticut April 17, 2016
The Providence Journal Rhode Island April 17, 2016
Times Union (Albany) New York April 17, 2016
The Philadelphia Inquirer Pennsylvania April 17, 2016
Hartford Courant Connecticut April 17, 2016
New Pittsburgh Courier Pennsylvania April 21, 2016
Philadelphia Daily News Pennsylvania April 22, 2016
The Baltimore Sun Maryland April 25, 2016
The Charleston Gazette-Mail West Virginia April 26, 2016
The Sacramento Bee California May 4, 2016
Lexington Herald-Leader Kentucky May 5, 2016
The Desert Sun (Palm Springs) California May 6, 2016
Washington Blade Washington, D.C. May 10, 2016
Los Angeles Times California May 13, 2016
San Jose Mercury News California May 20, 2016
The Fresno Bee California May 21, 2016
The Santa Fe New Mexican New Mexico May 28, 2016
Daily Bruin (University of California,
Los Angeles) California May 30, 2016
The San Diego Union-Tribune California June 2, 2016