Blog/2016 U.S. Presidential Election
Posted Mar 16, 2016 by Martin Armstrong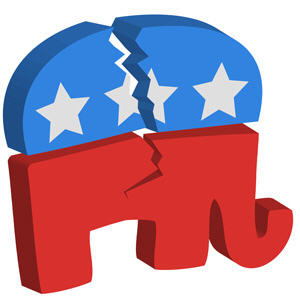 A Republican Party split is looking much closer after today. Trump won Florida, Rubio's home state, and that led Rubio to drop out. However, Trump was denied a victory in Ohio, which was won by its own sitting governor, John Kasich. This will make it very difficult for Trump to win the necessary delegates for a first ballot in the Republican Convention. This Ohio victory doesn't make Kasich a likely nominee in the least; it is just a spoiler to help the establishment pick who they want to be their nominee and that is certainly not Trump. Kasich has now won just one state so it appears that Ohio has sealed the fate of the Republican Party. Without Ohio's 66 delegates, Trump now faces an extremely difficult path to reach the majority of delegates he needs to avoid a "contested" GOP convention. So the establishment looks like it will win and no candidate will enter the convention with a majority of delegates locked up. So after the first ballot, they are free to vote for whoever the establishment wants. It looks like the computer may be right after all. This is beginning to appear to be a very insane situation. The last time no candidate had the required amount for a nomination was 1976. Under the rules of the GOP, all these primaries were pointless. Delegates can choose one of the candidates who ran, or someone else entirely – Romney?
With the people voting for Trump, the Republican Party may have to face a huge, strong anger backlash from his supporters. We are more likely to see a third party candidacy from Trump himself. The establishment will not have an outsider in that office so Trump might as well run third party to illustrate the corruption. The Republicans prefer Hillary to Trump any day of the week. The establishment fears ending elections that cannot be bought by their supporters, for their families might get fired from cushy jobs. Trump would not just sign whatever bill was put before him.
Obama has been a joke. Obama misses more than 50% of the morning briefings. Ever since Bush was in office and Dick Cheney actually ran the country, those in power have preferred a stooge as president. That way, they get to do whatever they want while the "boss" actually does nothing. As the joke goes, when Russia invaded Georgia, someone ran in to tell President Bush. He said, "Really? Well I didn't win that state anyhow. Texas would be a different matter."
Someone like Trump presents a huge threat to the establishment. They would have to assassinate him because he got in their way. The establishment might try blaming Cuba again or someone else they really do not like. The talk behind the curtain is clear— hand it to Hillary and everything remains intact.
So a Republican split is looking more likely. They have drawn the line in the sand. By no means will they accept Trump. He might as well begin forming a third party. What is going to be exposed is that we do not live in a Democracy. As long as the people vote for their groomed candidates, the pretense is fine. Now when it threatens their existence, well it's time to bring the grapes of wrath down upon everyone. Their mistake: they assume this will all blow over. Where they are wrong is that to defeat Trump, they must expose the truth. It's their game and they make the rules. Your vote really means nothing to them. I suspect this is step one in what the computer warns will be an entirely new political system ahead.