Blog/North Korea
Posted Sep 16, 2017 by Martin Armstrong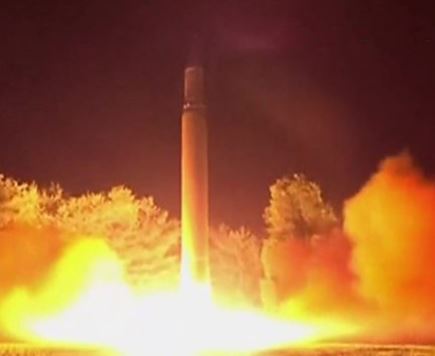 Gold has now declined with the constant threats from North Korea. The lastest missile was fired over Japan and reached an altitude of about 770km (478 miles), travelling 3,700km past the northernmost island of Hokkaido before landing in the sea, according to South Korea's military. The UN Security Council convened an emergency meeting, and unanimously condemned the missile launch as "highly provocative"but did not add new sanctions which do not seem to do anything anyway.
Meanwhile, Kim Jong-un said the test proved that the entire US was within striking range, yet experts warn that his missiles cannot accurately hit targets. However, this missile was launched at night perhaps to put on a show for their TV. Yet, this is the first missile fired from Jagang province, which now indicates a previously-unknown launch site is also operational.
There really is no indication that Kim Jong-un has any intention of actually starting a war – hence gold fatigue. This night launch clearly shows he is putting on a show for the people as a sign of strength. We will review the models on North Korea moving forward since he acted precisely on the last two target weeks.