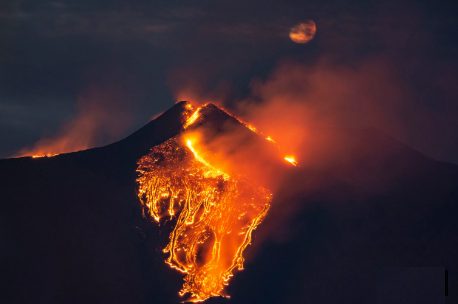 The lava flows from the Mt. Etna volcano, near Catania in Sicily, Italy, Feb. 23, 2021, are providing spectacular images. The explosion, which began just before midnight on Monday night, sent a plume of ash that rose for several kilometers from the top of Etna, as reported by The National Institute of Geophysics and Volcanology, Etneo Observatory.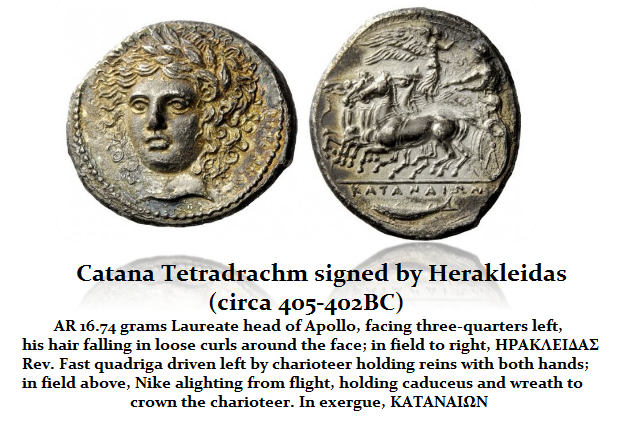 The earliest historical writer to mention an eruption of Mount Etna is Thucydides. In the course of his history of the Peloponnesian War, he records that there had been three eruptions of the volcano since the Greeks had settled in Sicily. He says the first occurred in the spring of 425BC when "a fire-flood issued from Aetna as on former occasions and destroyed the territory of Catania"; the preceding one took place fifty years before, which is doubtless the one described by Pindar and Aeschylus and mentioned in the "Marmor Parium" as happening in 479BC. He makes no mention of the date of the third one.
These are the earliest historical records of the volcano, which therefore do not antedate the fifth century BC. After 400BC several eruptions are recorded in Graeco-Roman writers. Of these, the chief ones are the following: 396 BC, when a great lava stream reached the sea on the northeastern base of the volcano in which Catania was destroyed. Interestingly, perhaps just before Julius Caesar (100-44BC) crossed the Rubicon in 49BC, Vergil mentions as one of the signs of the gods' displeasure at Caesar's untimely death was an eruption of Mt Aetna.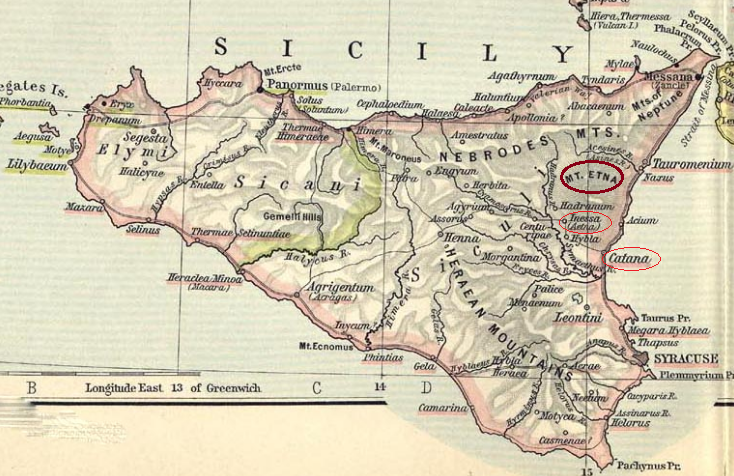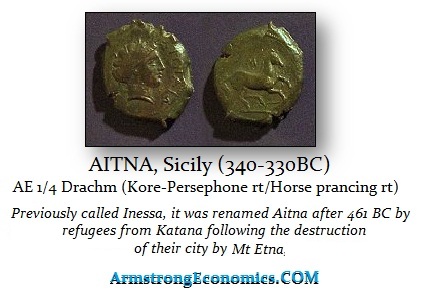 Following the destruction of Catana by Mt Etna, the refugees fled to Inessa, a small suburb. They renamed that city Aitna and began to strike coinage in the name of their new city.