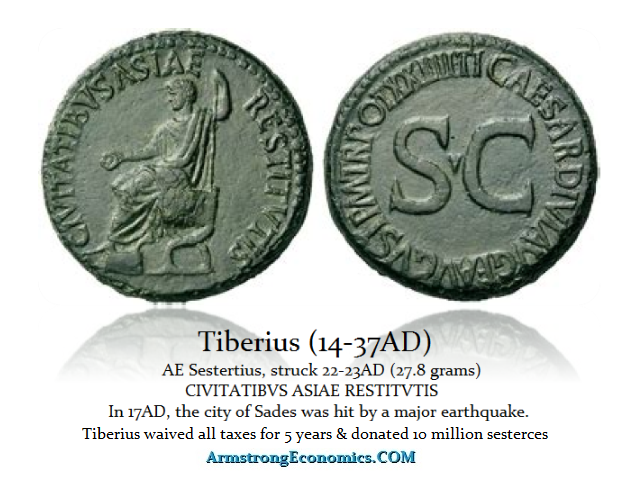 The Double Earthquake that hit Turkey & Syria has been extraordinary. The first quake was a 7.8 magnitude sticking in southeastern Turkey and northwestern Syria early Monday morning local time. Then 9 hours later, a second quake, which recorded a magnitude of 7.5, struck hard. Both countries have witnessed the devastating aftermath as rescue workers on the ground are reporting that nearly 12,000 people have been killed as a result of the quakes, and tens of thousands more have been injured. Thousands of buildings have also been reduced to rubble.
This region is prone to these major DOUBLE earthquakes. Overall, since the major earthquake of 17AD that was so devastating financial panic in Rome took place and forced Emperor Tiberius to issue these coins noting that they were for the relief of that region – ASIA.  There have been 81 major earthquakes. There have been many double earthquakes and the previous was in 2017 June 12th and July 21st. Before that in 2011, there was a Double Earthquake on the 23rd of October and then on November 9th.
What is unusual this time is the time differential was only 9 hours rather than days. This raises the concern that this event may not be over just yet.