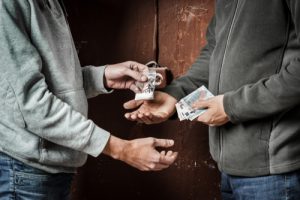 The Taliban has sadly revived Afghanistan's booming drug business and now poses a stark threat to the rest of the world. According to a BBC report, the country has expanded from opiates to producing crystal methamphetamine. Estimates say the nation produces an average of 3,000 kg per day at 500 separate laboratories. The herb ephedra grows naturally in the nation and can be used to create ephedrine, a key ingredient in the highly addictive drug crystal meth.
The Taliban recently eliminated the tax on ephedra by simply banning it from public production. The ban has allegedly caused prices on ephedra to double among the region, where it is sold openly at markets. Dr. David Mansfield, a researcher who tracks Afghanistan's drug trade using satellite imagery, said that the ephedra ban came after cultivation, and the full effect of the ban will not be felt until next July when the harvest is due. Dr. Mansfield believes that the amount being produced could become the Taliban's most lucrative drug.
Effectively cut off from international trade and the broader world economy, the Taliban is likely to allow the drug trade to flourish. Around 80% of the world's supply of opium comes from Afghanistan, and numerous farmers have told reporters that drug-related harvests are the only lucrative crops for them to plant. An informant told the BBC that a kilogram of heroin, produced from opium, would cost around $66,000 in Britain. Bilal Karimi, a Taliban spokesman, told the BBC that they could not take away opium cultivation from the Afghans until they found "an alternative."
Domestic sales of the drug are also on the rise due to the low cost. Afghanistan's drug trade has overshadowed Iran's as well, with one user claiming a gram of meth that previously sold for $15 now sells for around $0.31 to $0.41. The last time the Taliban took over, they waited six years before publicly banning the drug trade. As a result, the Taliban will continue to illegally export drugs such as crystal meth and heroin worldwide, which is an actual threat to international security.