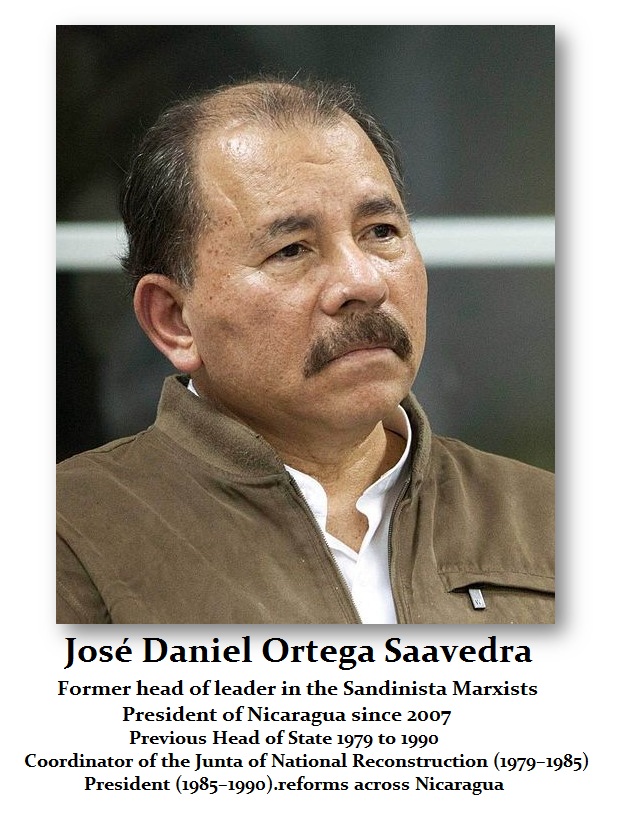 Nicaragua is in crisis and keeps spiraling toward a much more profound bloodier conflict and revolution. President Daniel Ortega is fighting intensely against the rising civil unrest and has lost control of the streets. We are witnessing how "confidence" is the most critical factor in holding governments in power.  Once the people lose that confidence in the management of the government both socially and economically, we see the inevitable rise of civil unrest which can evolve into revolution. José Daniel Ortega Saavedra (born November 11, 1945) has been serving as President since 2007. Previously, he was the leader of Nicaragua from 1979 to 1990, and he was first the Coordinator of the Junta of National Reconstruction (1979–1985) and then became President (1985–1990). As the leader in the Sandinista National Liberation Front, Ortega's policies in government were Marxist reforms across Nicaragua.
Hundreds of people have died, including a one-year-old baby, and thousands have been injured since anti-government protests began six weeks ago. The government simply opened fire on a Mother's Day march led by the mothers of victims last week. This demonstrates that far too often the military will kill their own people and never think twice. Officials are blaming "criminal gangs" but that is rejected by the people who argue the violence is one-sided. The police and paramilitary gangs have been using live ammunition against peaceful demonstrators. The victims included a journalist shot as he live-streamed protest events.
For those unfamiliar with the background of Nicaragua,  President Daniel Ortega first came to power as a Marxist guerrilla when the Sandinistas overthrew the president Anastasio Somoza (1925-1980) back in 1979. Somoza was a Nicaraguan politician and officially the 73rd and 76th President of Nicaragua from 1967 to 1972 and then again from 1974 to July 17th, 1979. He was the last member of the Somoza family to be President, ending a dynasty that had been in power since 1936. After being overthrown, Somoza fled Nicaragua but they eventually assassinated him while in exile in Paraguay.
Ortega's relationship with the United States post-revolution Nicaragua was reasonable so they provided the country with tens of millions of dollars in economic aid. Relations eventually broke down when Ortega began supplying weapons to leftist El Salvadoran rebels. The USA then funded the Contras in a vicious civil war during the Reagan administration. The USA sponsored a peace agreement back in July 1987, which won Costa Rican President Óscar Arias the Nobel Peace Prize for that event. It was this civil war that led to free elections in Nicaragua when Ortega was defeated by Violeta Chamorro in the 1990 presidential election. Nevertheless, Ortega had acquired a taste of power and remained as the opposition leader in politics. It seems once someone has a taste of power, they are always drawn back into it in one way or another just to be relevant again. As the economy did better, Ortega was compelled to gradually moderate his Marxist beliefs to try to gain power again. He publicly created the image of abandoning his Marxism–Leninism philosophy and embracing democratic socialism.
Ortega was an unsuccessful candidate for president in 1996 and 2001. After some 16 years, Ortega won power once again after forging new relationships with the Catholic church and backing a total ban on abortion in addition to soliciting business leaders offering tax exemptions from a Marxist. He took power in 2007 following the 2006 presidential election. But the collapse of the economy in Nicaragua's key ally Venezuela based upon Marxism combined with the economic crash from 2007 has helped to reveal the brittleness of Ortega's rule and created the appearance that he does not intend to relinquish power again. Ortega, faced with a collapsing economy, instituted the policy of social security changes requiring more payments and offering lower payouts. This was the beginning of protesters reappearing for once again it was a tax increase to support socialism.
There has been a clear trend toward corruption and authoritarianism that seems to be the hallmark of Marxist regimes. Their economic philosophies do not work so they always turn to authoritarianism to force their dream of Marxist/socialist utopia. Ortega seized control of institutions and eliminated term limits for what was becoming a pretended democratic government. The elections since 2008 were plagued by irregularities that made it appear the election was rigged. The opposition was reduced and rivals were suppressed. Protesters began to openly shout that "Ortega and Somoza are the same thing."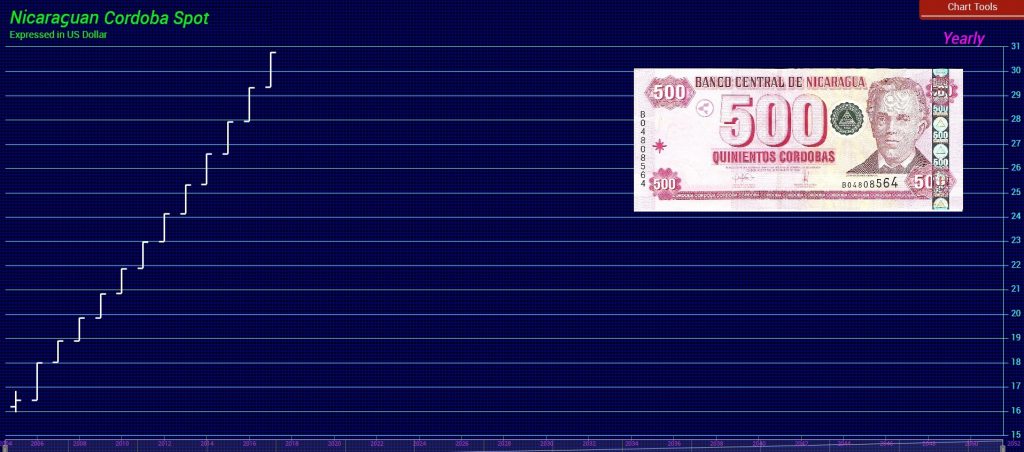 Today, the dominant view in Nicaragua is that Ortega will voluntarily step down and a revolution is brewing as we are witnessing in Venezuela. When we look at the currency, the dollar has been in a bull market for the past 13 years relentlessly. The next presidential election is due in 2021. Many are demanding it should be moved forward. Unfortunately, the army and police appear to be supporting Ortega and that leads only to bloodshed. Ortega only pretended to have surrendered his Marxist philosophies. Once in office, Ortega once again made alliances with fellow Latin American socialists, particularly Venezuelan President Hugo Chávez. Nicaragua also joined the Bolivarian Alliance for the Americas which is a leftist organization with the view of a utopian society by force of arms. Up until June 2009, the Bolivarian Alternative for the Americas was a regional bloc, organized in 2004, with the goal for creating a socialist political and economic integration within Latin America and the Caribbean. This was conceived by Venezuelan President Hugo Chávez and was created jointly by Venezuela and Cuba as an alternative to the NAFTA Free Trade arangement. The member countries are Antigua and Barbuda, Bolivia, Cuba, Dominica, Ecuador, Nicaragua, Saint Lucia, Saint Vincent and the Grenadines, and Venezuela. As civil unrest has been rising in Venezuela and now in Nicaragua, the socialist agenda is being exposed as suppressing economy advancement in Latin America.
As of April 19, 2018, Amnesty International and the IACHR of the Organization of American States claim that Ortega has engaged in a violent oppression campaign against protesters. Of course, Ortega has replaced Somoza and as they say, the king is dead, long live the king reflects that revolutionaries typically become the very people they claim to be overthrowing. The Nicaraguan Government officials and Government-owned media have denied these claims. We are witnessing the collapse of socialism around the globe. Nevertheless, as I have stated many times, all violence seems to come from leftists who employ it when their dream of socialism is threatened by the business cycle and its anti-human approach to deny economic freedom.