Posted Sep 6, 2021 by Martin Armstrong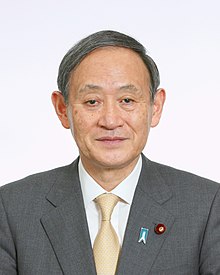 Japan's Prime Minister Yoshihide Suga has announced he will resign at the end of September making this month indeed a political turning point worldwide in addition to Biden's disastrous performance as president. Suga is perhaps the first head of state to resign because of his handling of the pandemic.  Tokyo will still be in sync with Washington's tune of anti-China rhetoric. It just seems like someone wants war.
Suga has struggled to connect with the people and his inability to do so has been disastrous for the confidence in government. Public opinion has rejected his policies and the sentiment to scrap the Olympics in the face of the surge in Covid-19 cases, simply forced Suga to resign. The hosting of the Olympics was supposed to bring global prestige and renewed confidence with the pandemic being over. But it has proven to be hugely controversial and very unpopular amongst the Japanese public.
Mr. Suga, 72, assumed the prime ministership after Shinzo Abe, Japan's longest-serving prime minister who resigned in August 2020 because of ill health. Mr. Suga has been deeply unpopular because he has been blamed for the COVID pandemic. The Japanese tend to be rather insulated. Hence, this September political change is also right on target with our political models at this time.