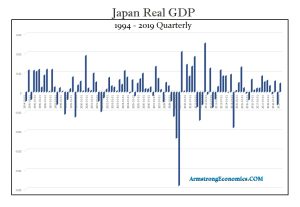 QUESTION: When I saw your blog saying 2019 will be really crazy and chaotic year for Japan (Feb 2019), I was curious how bad it could be. It is always amazing to see how you and your Socrates turning point manifest in the real world. I was astonished when Japan restricted exports of critical materials used in South Korea's high-tech semiconductor industry right after G20 Osaka Summit. A trade war is generally initiated by a deficit country. This decision was not only opposite but might lead to devastate their own industry and disrupt the world IT markets. It seems to be a political stance for the upcoming Japan Upper House election but connects further deep into friction between Korea and Japan history. Insane year for Japan indeed, thank you for your great work and efforts providing new perspectives to the world.
Q: With all that sovereign debt how do you see the future of Japan will be?
HJ Kim
ANSWER: Our forecast was covering economics, which then causes political responses. As I previously reported, the Bank of Japan (BOJ) Governor Haruhiko Kuroda publicly stated that it may maintain ultra-low rates for a further period of well over a year. However, he also warned against the idea of propping up the economy through unlimited money or printing to finance government spending.
The Bank of Japan is trapped. Its holdings of the national debt have reached nearly 50%. The BOJ modified its forward guidance or pledge on how it will guide future monetary policy. It stated that current very low interest rates will continue at least until the spring of 2020. Without the BOJ buying government debt, there is ZERO hope that interest rates will rise dramatically and a financial crisis will be in the making. The BOJ will keep rates low for an extended period of time for they have no choice. There is no way out of this nightmare and the real inflationary cycle comes when the majority wake up and realize that the emperor has no clothes, and that means the central bankers worldwide.
There remains a capital flight from Japan and the more they keep these policies up, our model does not show that their economy will recover. We are looking at the absolute low perhaps forming as early and the middle of 2020 but more likely into mid-2021. This will prompt the Monetary Crisis to spark political change.