Blog/European Union
Posted Oct 2, 2017 by Martin Armstrong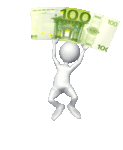 COMMENT: Mr. Armstrong; the Spanish and Italian bonds are getting hit. You were spot on again.
RW
REPLY:  Yes the peripheral spreads on the Spanish government bonds (at 10yrs) are 8bp wider than Friday close. Italy is also widening – out by 6bp but still early in the trading day just yet. The Spanish IBEX is off -1.45% (Banks down between 2.5% and 5%).
The Italian election will come May 20th, 2018. That is the end of this year from Political Hell. We will see the anti-EU sentiment now rise in Italy and in Eastern Europe. The EU made a very serious mistake. They did not support the people and democracy, but sided with the fascist government because it was in their own self-interest to crush Catalonia. This confirms that the EU is tyranny and cares nothing about the people.