Posted Dec 30, 2021 by Martin Armstrong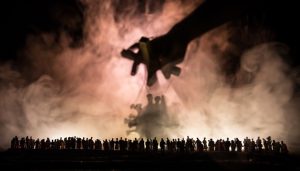 New Zealand has unofficially approved assisted euthanasia for a virus with a ~98% survival rate. Under the End of Life Choice Act (EOLCA) that passed in 2020, citizens may choose to end their life in a medical setting if they meet the following criteria:
aged 18 years or over
a citizen or permanent resident of New Zealand
suffering from a terminal illness that is likely to end their life within six months
in an advanced state of irreversible decline in physical capability
experiencing unbearable suffering that cannot be relieved in a manner that the person considers tolerable
competent to make an informed decision about assisted dying
At the beginning of December, the Ministry of Health (MOH) responded to an inquiry by The Defender. "Could a patient who is severely hospitalised [sic] with Covid-19 potentially be eligible for assisted suicide or euthanasia under the Act if a health practitioner viewed their prognosis as less than 6 months?" The Defender questioned. The MOH stated that the guidelines state a citizen may legally end their life if their prognosis is less than 6 months. "A terminal illness is most often a prolonged disease where treatment is not effective. The EOLC Act states eligibility is determined by the attending medical practitioner (AMP), and the independent medical practitioner," the MOH added, italicizing the portion noted.
The New Zealand Ministry of Health basically admitted that they would permit doctors to give patients the OK to end their life if they contract COVID. "Eligibility is determined on a case-by-case basis; therefore, the Ministry cannot make definitive statements about who is eligible. In some circumstances, a person with COVID-19 may be eligible for assisted dying," the statement continued. The law is so broad that the requirements are subject to interpretation — a life or death interpretation.