Posted Apr 20, 2022 by Martin Armstrong
US District Judge Kathryn Kimball Mizelle has determined that the US Centers for Disease Control and Prevention (CDC) violated the law by forcing travelers to wear masks — there is no longer a mask mandate for US travel. The ruling first went into effect in February 2021, and despite declining cases, the health agency and Biden Administration refused to lift the mandate. And the CDC continually pushed back its deadline without providing a clear reason. The judge determined "the mandate exceeded the CDC's statutory authority, improperly invoked the food cause exception to notice and comment rulemaking, and failed to adequately explain decisions."
Furthermore, the CDC overstepped bounds by placing a mandate on personal behavior rather than "cleaning measure," which is under their authority. It was not until this pandemic that the CDC was granted dictatorship powers over our lives. Mizelle also pointed out that although the CDC requires masks for travel, they do not have a mandate in place for anywhere else in America. The "science" does not add up.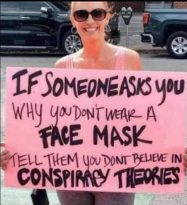 Since the ruling, nearly all airlines have dropped mask requirements. Amtrack said that masks are no longer required on trains. Uber, Lyft, and rideshare programs have dropped the mandate. The TSA is no longer enforcing mask mandates at airports – a touch of normalcy is in the air.
However, Biden could still fight the ruling. With his bottom-of-the-barrel approval rating, it would be political suicide. Secretary Psaki last said she is "disappointed" with the ruling (i.e., loss of control) and that the Biden Administration is still urging everyone to normalize covering their faces with fabric for no valid reason.