Posted Feb 11, 2022 by Martin Armstrong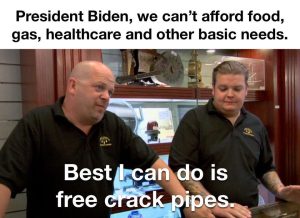 Joe Biden plans to spend $30 million in taxpayer money on crackpipes. If only this were a rumor. The funding is intended to reduce harm from substance abuse. "The purpose of the program is to support community-based overdose prevention programs, syringe services programs, and other harm reduction services," the Department of Health and Human Services (HHS) stated. Drug users will be supplied with their choice of paraphernalia, and while this could prevent drug-related disease transmission, it is simply putting a band-aid on a growing problem.
The HHS stated that they plan to collect data on race, sex, and gender. Biden's executive order stated, "The Federal Government should pursue a comprehensive approach to advancing equity for all, including people of color and others who have been historically underserved, marginalized, and adversely affected by persistent poverty and inequality." This plan funded by the Democrat's American Rescue Plan is absolutely ridiculous. Minorities end up behind bars for drug-related offenses at a higher rate than others, even when usage among races is reported at a similar level. Stating that this program is intended to help racial equality is an insult.
Biden promised to push for drug law reform, stating the importance of rehabilitating addicts rather than criminalizing them so that they may function within our society. He promised to decriminalize marijuana, as thousands are currently serving time for possessing the plant. Biden's own son Hunter has admitted to using numerous drugs but has remained out of the prison system due to his father's status. Others do not have that luxury. If the Biden Administration is serious about curbing the rampant drug problem in the US, they need to reform laws instead of enabling addicts with free (and still illegal) drug paraphernalia.