One long-term Canadian client just wrote to me saying:
"Never thought that its was possible that Alberta would actually split from Canada but with this new coalition in place to 2025, it is now possible. Guaranty of Green mandate, free pharma, basic income and tax the banks … why no get the banks to reduce fees to help retail … really have to consider leaving now."
The Liberal government and the NDP have reached an informal deal that will allow Trudeau to remain in power at least until 2025. The deal involves a pledge to act on dental care, pharmacare and other key issues advocated by New Democrats. This is what is wrong with a Parliamentary system that those in power can create deals to retain power that the people are never given the chance to vote on. Not that the American way is without fault. A Republic is up there in a race to the top of the list for the worst form of government ever. You vote for a Congressman, they get to Washington, and they are told how to vote on party lines. They NEVER actually represent the people who voted for them.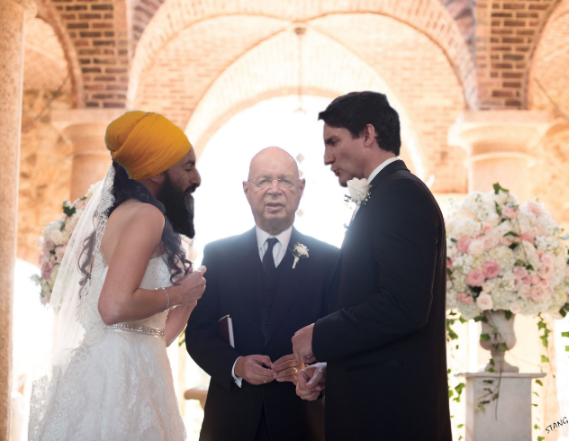 This picture is flying around because Both Singh and Trudeau are anointed by Klaus Schwab as Young Global Leaders. Perhaps Alberta and rural BC can join with center America, and East Canada can merge with California and we just redesign North America into the MARXIST utopia against the Land of the Freed & the Home of the Brave.
It is actually quite hard to see Canada remaining intact through this centralized focus of sacrificing domestic policy objectives for international ones set by Agenda 2030 coming from the World Economic Forum. The Biden Administration killed the Keystone Pipeline. The developer of the Keystone XL pipeline announced it was pulling the plug in June of 2021 on the controversial project after the Biden administration revoked its permit in January 2021 while Trudeau cheered. That was a very big deal for Alberta.
Cutting off pipelines was the first thing out the door for Biden. Make no mistake about it, Ukraine is being used for cannon fodder to ensure that the pipelines from Russia to Europe are also cut off. This is an agenda that is being carried out by Climate Change Zealots. Trudeau is clearly following Agenda 2030 and if anyone can divide Canada, it will be Trudeau.