Posted Feb 2, 2022 by Martin Armstrong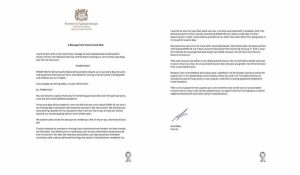 (Click on image above for better resolution)
Saskatchewan Premier Scott Moe has heard the cries of the people and responded accordingly. "My government supports your call to end the cross border ban on unvaccinated truckers," he said. "And it is why, in the not too-distant future, our government will be ending our proof of negative test/proof of vaccination policy in Saskatchewan."
Moe, who is fully vaccinated, said that he believes vaccinations are effective but does not believe in forced mandates. "Because vaccination is not reducing transmission, the current federal border policy for truckers makes no sense," Moe said in his letter. "An unvaccinated trucker does not pose any greater risk of transmission than a vaccinated trucker." Finally, a politician speaking openly and honestly. An unvaccinated trucker, worker, student, customer, or anyone for that matter does not pose any greater risk of transmission than the vaccinated. The mandate is meaningless.
Furthermore, Moe called the vaccine mandate an economic liability. "The current federal policy does pose a significant risk to Canada's economy and to the supply chain in our Saskatchewan communities," Moe wrote. "This federal policy will increase the cost of living, which is now rising at a rate that is creating significant hardship for many Canadians."
The vaccine mandate is causing harm to the economy, workforce, and overall ways of life. I commend the Freedom Convoy for protesting successfully and making real changes through civil disobedience.