Posted Nov 4, 2019 by Martin Armstrong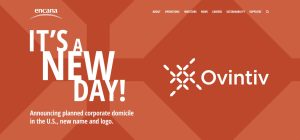 COMMENT: Here in Canada we just received devastating news this morning that our greatest company/ multinational is leaving & never to return. ENCANA has announced its intention that it is leaving the country of its birth !!
Thank goodness for socialism!! Wonder how public servants will feel who voted for this " snowboard instructor " will feel when their social insurance/ pensions get slashed??
DL
REPLY: Yes, ENCANA has switched its domicile from Canada to the USA because of Trump's tax reform and the insanity of Canadian environmentalists. Don't worry, when the Democrats get hold of the presidency, they will reverse Trump's tax reform and drive companies back out of the USA just as Canada is doing up there.