Trudeau is pushing forth the Great Reset at any cost. Canada will impose a federal "Digital Identity Program" to help the World Economic Forum develop a global ID system. Since the COVID passports failed, they are outright demanding that everyone carry proof of their digital identity.
Canada's Digital Ambition 2022 report revealed the details of its plan:
"Now more than ever, we have work to do to make it easier for Canadians to interact with the Government of Canada, and we are committed to better serving Canadians in a digital age. This will require modern, integrated systems and an unwavering focus on the needs and experience of citizens. We have made progress, but we must continue to improve.

During the pandemic, the government quickly deployed new and innovative programs to support Canadians, but we have also seen examples where we can do more to deliver secure, reliable, and easy to use digital services.

Building on the vision outlined in Canada's Digital Government Strategy, I am pleased to introduce the Government of Canada's Digital Ambition (GC's Digital Ambition) which has been developed with this service imperative in mind… The GC's Digital Ambition will provide a solid foundation for the ever-evolving digital transformation of government. It will serve as an important tool to support the focus shared across ministers and departments to identify and implement better ways to ensure Canadians receive high quality, accessible, and efficient government services."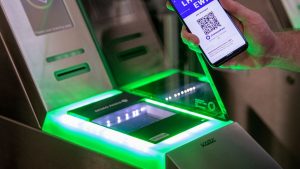 We saw the power that digital IDs provided to governments. China was able to freeze bank accounts and prevent the freedom of movement by simply changing a QR code. As we saw in numerous countries with the COVID passport, people were unable to access public buildings and facilities. They were unable to leave their countries or provinces. Governments can effectively banish people from participating in society with digital IDs. This is simply one step away from actually microchipping the people as if we were owned by the government.
The Canadian government will be able to track every citizen's movement. They will surely implement digital IDs into every facet of government, so the people will be required to carry their digital ID as if it were Nazi Germany. Freedom and privacy have been lost to tyranny.