Posted Nov 15, 2019 by Martin Armstrong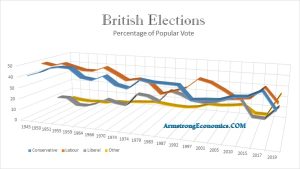 QUESTION: I know you were rather close to Sir Alan and Prime Minister Thatcher. I also know you are close to a number of politicians here in Britain. I was at your Edinburgh conference where they introduced you as a seventh-generation Edinburgh Scotsman I found very interesting rather than an American. You are famous here in political circles for many forecasts with the latest being the BREXIT victory. Do you have any insight into the December election? It is getting crazy here with two former Labour MPs declaring that they planned to vote for the Conservative Party because they said Labour's leader, Jeremy Corbyn, was unfit to be prime minister. Then Tom Watson quit because of Corbyn's policies over Brexit and his anti-Semitism. But the Conservatives seem to be less reliable as well. I think Nigel Farage may surprise a lot of people in this election. What does Socrates say?
GB
ANSWER: That is an interesting question. It is hard to map because of such a diverse breakdown in the "other" category. There is no question that Nigel's party came out on top in the EU general elections. As we can see from the chart at the top, both Labour and the Conservatives are declining and there is a rise in both the Liberal Dems and "other" against the establishment so to speak. This is part of the global trend many outside the USA call the Trump Revolution. They are not referring to something that Trump did himself. Instead, this is a global trend against established political parties everywhere.
My advice to Johnson would be to cut a deal with Nigel's Brexit Party. There is a trend underway that is bigger than most suspect. I know Nigel has no designs on being Prime Minister. However, fate will determine the roll of the dice. Nigel may end up in a position he did not wish to be in.
We will try to refine the models to do a proper forecast. Keep in mind that the "other" category is due for a strong showing and this will most likely be Nigel's party. Also keep in mind that his Brexit Party does not hold any seats in Parliament at this time. That will change.