Posted May 24, 2019 by Martin Armstrong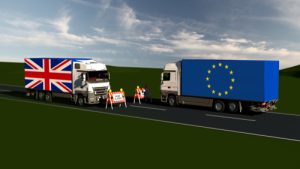 Prime Minister Theresa May has announced that she will now step down as the U.K. prime minister after failing to win support for her plan to withdraw from the European Union. It has been shocking how she only pitched Brussels' demands and refused to defend Britain. This conflict has been all about Brussels who demands a hard border in Ireland to prevent their loss of taxes on trade.
May stated she was resigning outside 10 Downing Street on Friday, for she said it was "in the interests of the country for a new prime minister" to lead the U.K.'s Brexit process and confirmed her final day as Conservative Party leader would be June 7. However, she will continue as prime minister until a successor is chosen.
"It is and will always remain a matter of deep regret to me that I have not been able to deliver Brexit. It will be for my successor to seek a way forward that honors the result of the referendum," she said. "To succeed he or she will have to find consensus in parliament where I have not."
Theresa May has single handedly destroyed her reputation and political career. Brussel's refusal to yield on the border issue appears to be a deliberate ploy to try to force the U.K. into a choice of a hard exit or remain.