Posted Jul 4, 2016 by Martin Armstrong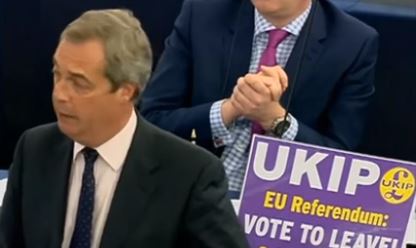 It is a shame, but Nigel Farage is standing down as the leader of the UK Independence Party. Nigel came from the real world and never desired to be a career politician. He has stated that he had done his "bit" following the UK's referendum vote to leave the EU. "The victory for the 'Leave' side in the referendum means that my political ambition has been achieved," he said. Farage also commented that leading the UKIP was "tough at times" but "all worth it." He added that Britain now needs a "Brexit prime minister." He continued, "I have never been, and I have never wanted to be, a career politician. My aim in being in politics was to get Britain out of the European Union."  He added, "So I feel it's right that I should now stand aside as leader of UKIP".
Meanwhile, Tony Blair, the ultimate anti-democratic politician, keeps saying that more than 1 million people have changed their minds and Britain should not go through with BREXIT. He would even surrender the Queen. He is living the euro dream and would surrender the pound and all independence to enslave the British to a new government that they could never vote to change. People like him just assume to know what's best and career politicians should rule and the people are too stupid to have any influence.
Nigel will be sorely missed. It is a personal battle, absolutely. But with people like Blair hanging around in the wings, the job may not be done to save Britain. The people who want power love to tell everyone else what they will be allowed to do, and they will never resign. These career politicians are no different than any monarch who also abused the people — let them eat cake!