Posted May 23, 2019 by Martin Armstrong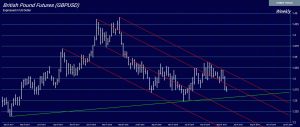 Nigel Farage's Brexit Party is poised to dominate the upcoming European elections in the U.K., according to spread betting firm Sporting Index. Nigel appears to be leading with his new party to take 28 seats. Prime Minister Theresa May's Conservatives will win perhaps seven and Labour will take 13 with the Liberal Democrats coming in at about 12 seats. Of course, the Sporting Index predictions have been consistently wrong on their forecasts. As Nigel pointed out at the WEC in Rome, we were the only ones who got it right.
They made a forecast that was good on the trend. About two hours before the vote on May's Brexit deal, the spread betting firm forecast she'd lose by 60 votes. She was defeated by 58. The Guardian ran the headline:
The complete mess that PM May has created over BREXIT is just indescribable. She is determined to accept Brussel's demands regardless of the consequences. She has even admitted that she could give into Labour's demands to stay in customs union. Her entire policy seems to be to push it to the end and hope that the choice between a hard exit and her way will end with her victory. This has been a very dictatorial approach. PM May offered lawmakers a vote on whether her Brexit deal should be subject to a referendum, in a last-ditch bid to save it. Last time MPs voted on a second referendum, there was just a 12- vote difference, with 280 backing a confirmatory vote on a deal and 292 because Parliament is dominated by those who are against BREXIT as is PM May. This rising fear is that Senior Labour MPs are talking behind the curtain urging that Jeremy Corbyn should vote for a second referendum or face an unequivocal victory of Nigel Farage in the European elections.