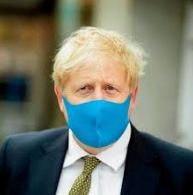 We have to wonder just how long are people going to sit on their hands before rising up? Boris Johnson is no doubt one of the world's most ruthless heads of state. Please like this have often invoked revolutions and the policies of Boris in Britain are just so outrageous, history will remember him in the long list of absolute tyrants.
On Good Friday, police entered a Polish Church at stood at the altar and instructed worshipers to go home of they would be fined £200 per person. That was absolutely outrageous. On Sunday, the police who are obviously incapable of human thought descended upon a Polish Church once again. Boris believes in no religion other than trying to figure out how to wipe out the majority of the population following his father's objectives as is Bill Gates. They do not believe in humanity or even that anyone is created by God nor do we possibly have a soul. We are all just biological mistakes he wants to correct so he can play God and Build Back Better because Goid screwed it all up if he even exists.
The real question is simple. When will the Brits say enough is enough?