Blog/Forecasts
Posted Jan 4, 2016 by Martin Armstrong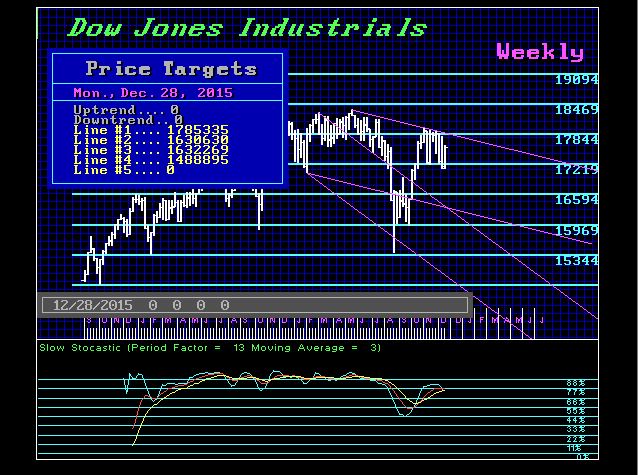 QUESTION: Marty, at the WEC you said the Dow would go down in the first quarter. How far do you see this going this time?
ANSWER: We elected a monthly Bearish Reversal at year-end and closed lower than 2014. The main support starts down at the 15850 level followed by 15370. We can see even technically the stochastics are showing a correction is forming and we lost the upward momentum. A monthly closing beneath that level will confirm a deeper correction. Many people expect the stock market to decline with higher interest rates domestically while others see an uptick in U.S. rates as a kiss of death to emerging markets which would be bad for the world economy as a whole. Keep in mind that these are likely to put a bullish spin on the dollar, fueling the deflationary spiral for now. I have stated that this is critical to understand the future.
We have initial support forming at the 16886 level and a weekly closing below that will confirm a continued decline. Our daily models warn of important support starting at 16930.
Volatility should rise into next week and we have a slew of Directional Changes in a row on the Weekly level, warning of a very choppy market ahead into early February.