Blog/Understanding Cycles
Posted Sep 20, 2016 by Martin Armstrong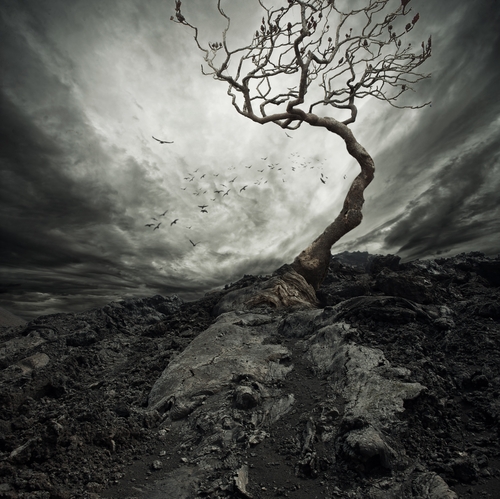 QUESTION:
Mr. Armstrong,
Thank you for the time you are spending to educate the public about what it really going on. I have followed your work for years, from before you were released from prison. Over the years you have made several comments about directional changes and have alluded to the idea that a crossroads is coming in that we will either enter another Dark Age or we will see the light towards greater liberty and freedom. More recently, you mentioned the year 2032 as a critical year in this regard.
In addition, you have mentioned that Trump winning the election would postpone the inevitable chaos, but that HRC winning would speed it along.
In terms of the distal effects of the November election on 2032, does either Trump or Clinton winning increase the likelihood of entering a Dark Age over something more hopeful? Should we be attempting to kick the can down the road or should we get it over with?
Thanks again for your service.
HA, Ph.D.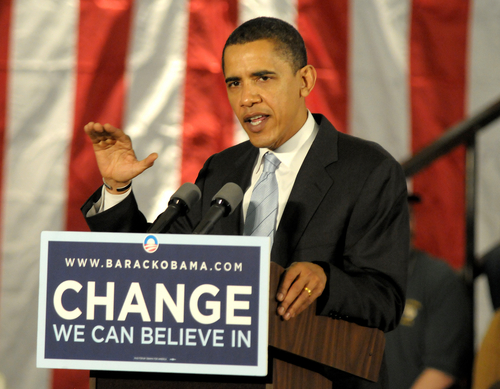 ANSWER: Hillary is just corrupt and rotten to the core. She represents everything that is wrong with our political economy. Politicians no longer care about the people. Every election promises "change" in some variation. That is admitting something is broken, but it always comes down to the same thing – it's just about them.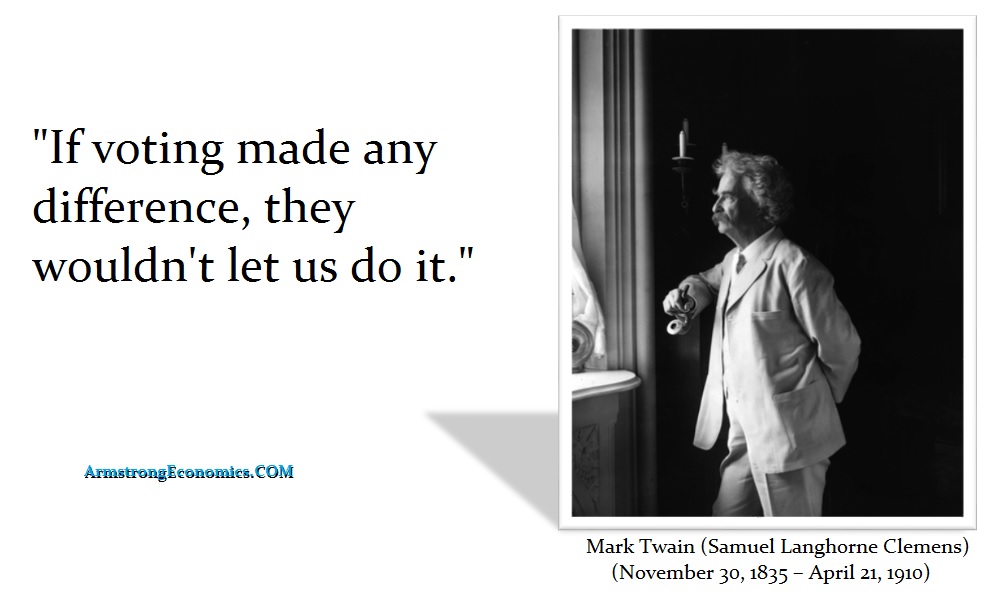 Indeed, it was Mark Twain who put it best during the last century: "If voting made any difference, they wouldn't let us do it." We must understand that this has been an age old battle between the rulers and the people. In Athens where Democracy was born, they constantly fought to seize power back and even made Pericles stand trial. Government has always sought to bribe the people creating a welfare state. The Romans knew that the way to power was to promise everything but give them bread and circuses (sport games) and they could maintain power. It was Decimus Iūnius Iuvenālis, commonly known as Juvenal, who was a Roman poet active in the late 1st and early 2nd century AD that wrote that phrase:
… Already long ago, from when we sold our vote to no man, the People have abdicated our duties; for the People who once upon a time handed out military command, high civil office, legions — everything, now restrains itself and anxiously hopes for just two things: bread and circuses
[…] iam pridem, ex quo suffragia nulli / uendimus, effudit curas; nam qui dabat olim / imperium, fasces, legiones, omnia, nunc se / continet atque duas tantum res anxius optat, / panem et circenses. […]
(Juvenal, Satire 10.77–81)
Nothing has changed. Many people can name every person on some sports team but cannot name their political minister, congressman, or whatever lofty title they call themselves. The judge in a courtroom demands to be called "honorable" as do all public servants. They make a mockery of the very word.
We are approaching the grave danger of a Dark Age beginning from the aftermath of 2032. Hopefully, I will be gone by then and will not have to face this horrible event. Yet Dark Ages are reoccurring events throughout history and in all cultures. The Greeks endured their between the Homeric Age that marked the end of the Mycenaean civilization around 1100 BC, to the first signs of the Greek cities (poleis) rising again in the 6th century BC (508–322 BC). It was during the 9th century BC (900-801BC) that we begin to see the rise of great cities outside of Greece including Carthage, which was founded by the Phoenicians.
Japan went through its Dark Age, which also lasted about 600 years and the same impact was endured in Europe with the collapse of Rome in 476AD. Dark Ages seem to come in units of 3 so they are 300 or 600 years. The cause is always political corruption.
In the case of Japan, each new emperor devalued the money in circulation with a decree that it was worth 10% of his new coins. There was no intrinsic value since they were bronze or iron. This process led people NOT to hoard money. Chinese coins were sought after since they would not be devalued. Eventually, nobody would accept Japanese coins and they ceased to be issued for 600 years. People used Chinese coins or bags of rice.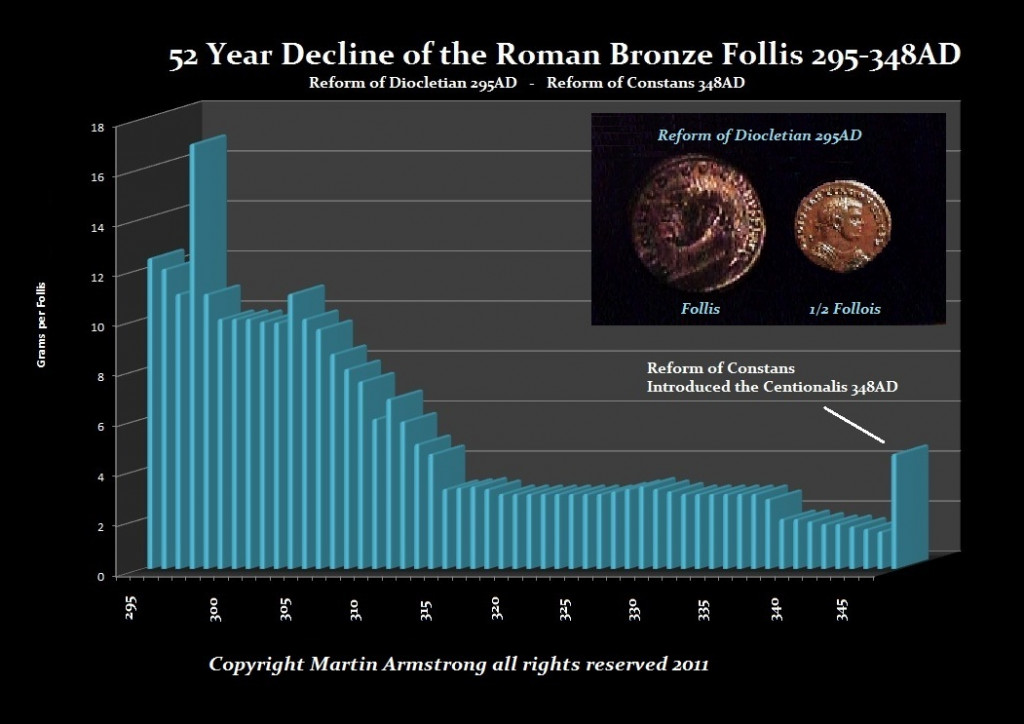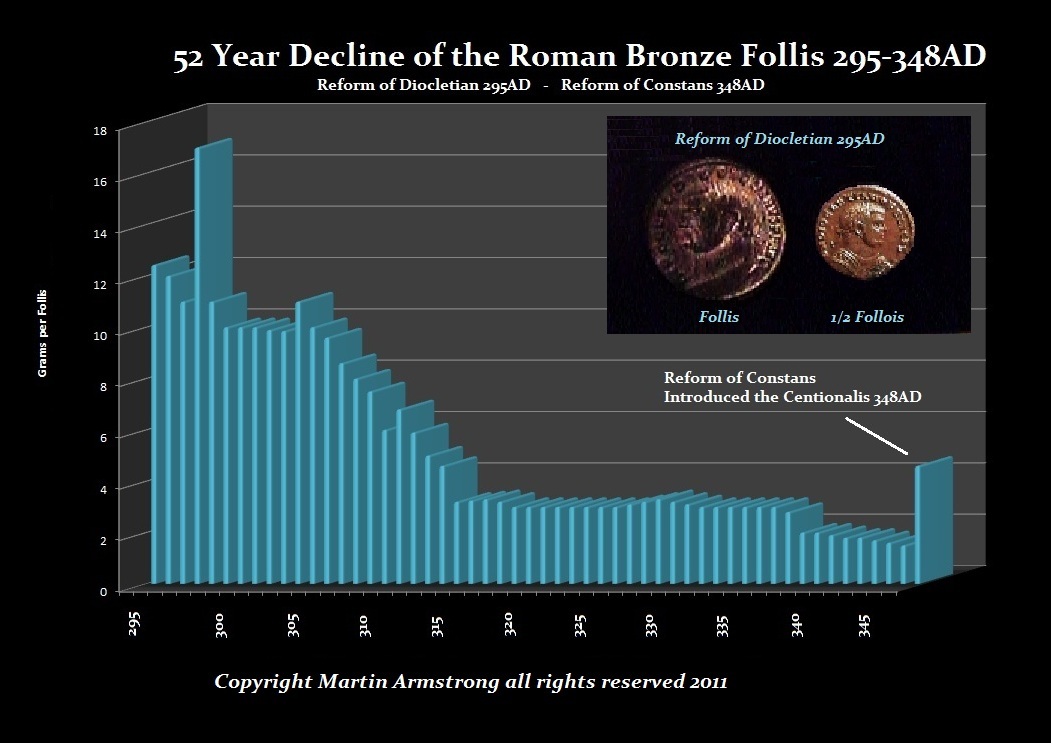 The Roman Monetary Crisis that saw silver vanish by 268AD, was naturally followed by  an attempt to restore the monetary system. A new bronze coin was introduced in 295AD known as the Follis. Again, one 52 year cycle saw its collapse from over 16 grams to under just 2 grams.
By the time you come toward the very end of the Roman Empire, you rarely find any bronze and when you do, it is less than an American penny. Coinage is debased because of the corruption in government. Those who think restoring the gold standard would do anything are wrong. Such monetary reforms appear repeatedly throughout history with little lasting impact. The system as we know it is always doomed to failure simply because we are satisfied as a whole with bread and circuses and let politicians run wild in their greed. Hillary is the example for everyone to see.
I will gather all the accounts and this is on my bucket-list of books to complete. We do have a choice. We can understand what is coming and WHY, and perhaps take that first step out of darkness and move into the light of a realistic political system that ends the bribing of citizens and this eternal battle of political corruption. We need a REAL democracy without career politicians. Only then can we hope to advance as a society.