Blog/Understanding Cycles
Posted Dec 12, 2016 by Martin Armstrong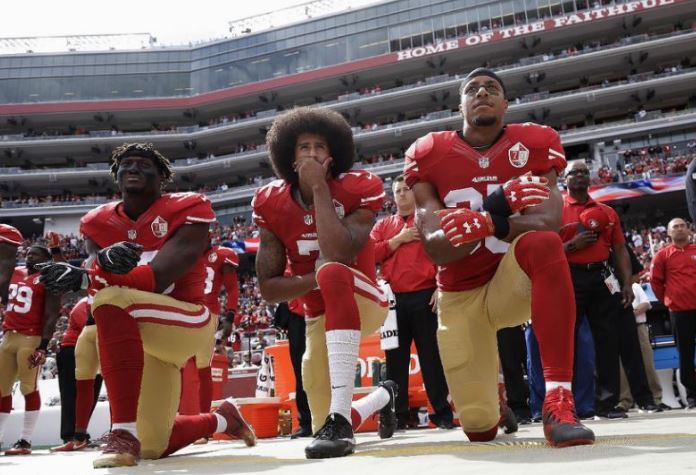 Many are now blaming Colin Kaepernick for the sharp decline in American football ratings. Kaepernick began kneeling during the national anthem in the NFL preseason as a protest of the injustices against people of color because of Trump as if he has done something. Kaepernick has continued to protest in every game this season. Now, more than 40 football players have joined Kaepernick. Some are just taking a knee, and others are sitting on the bench. But the real disturbing display is that many now stand with a raised fist, including such stars like Denver Broncos linebacker Brandon Marshall, Miami Dolphins running back Arian Foster, and New England Patriots tight end Martellus Bennett. Other athletes also joined the protests outside of games. Given what they make in salary, they do not have a lot to complain about when they buy $300,000 cars and houses for millions. Kaepernick got a contract for $126 million to play ball – that's it. That's getting up there with Hillary's speaking fees. Nevertheless, this is feeding into the civil unrest cycle that will turn bloody in the year ahead.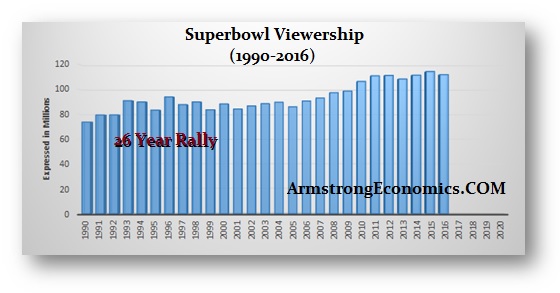 Super Bowl viewership peaked in 2015 and has begun to decline from a major 26-year high. There was a surge that began with the 2007 crisis. As the economy turned down, the viewership soared from 93 million to a major high that almost reached 115 million in 2015. This year fell to 111 million, which is actually the Bearish Reversal. So if 2017 comes in under 111, this will confirm sports have begun a bear market.
The players who think they have the right to turn their sport into political protests fail to understand that people watch such things to escape. Trying to use their status to remind them of what they are trying to ignore has already set the decline in motion — right on time. It looks like sports are a great short. This was made visible by the bankruptcy of Sports Authority who closed their last store on May 18, 2016. Clearly, 2015.75 was a major turning point that is not confined to the just the peak in government. As people turn their backs on sports, it reflects that they are getting angrier at the economic situation of government. Kaepernick may be remembered as the man who killed football.