Blog/Politically Correct
Posted Nov 1, 2022 by Martin Armstrong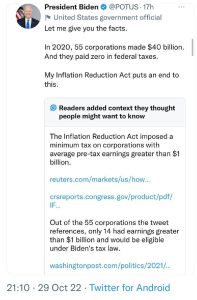 All eyes are on Twitter after Elon Musk acquired the company for $44 billion. Musk took Twitter public but plans to make it available to shareholders in another five years as he believes he can reach one billion subscribers by that time. The eccentric billionaire began his takeover by bringing an actual kitchen sink to Twitter headquarters – and he indeed threw out everything "but the kitchen sink," as the phrase goes.
First, the original board of misinformation was fired. The former CEO and many top-level executives were laid off. Twitter engineers were replaced with Tesla engineers who began working on changing the algorithm. That specific algorithm has been used to silence conservative voices and anyone going against the general narrative.
President Joe Biden was fact-checked for claiming that his Inflation Reduction Act would crack down on 55 corporations failing to pay their fair share in taxes. Twitter added context to his post and explained that only 14 of the 55 companies had earnings over $1 billion and would be the only companies eligible under the new tax law. The president or left, in general, would NEVER have faced a fact check. Musk even personally replied to a tweet from Hillary Clinton in a mocking way and obviously did not have his account banned. The left may still bash the right too.
Could you imagine if the algorithm that stifled COVID-free speech was alive and well from the beginning of 2020? People may have seen a different side to the story.
Some are worried that hateful speech will prevail on Twitter. After a certain derogatory word began trending, engineers discovered that it was part of a "trolling campaign" where around 300 bots were responsible for promoting that word in an effort to discredit the new platform. Bots or fake accounts will face bans, but people may speak freely on the platform.
Former President Trump is permitted to rejoin the social network, but he said he would stay on his Truth Social. It will be interesting to see what happens on Twitter now that all voices can freely speak without punishment.