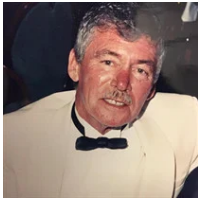 Terrance T. Flann was my cousin who passed away at the age of 83 peacefully on Thursday, December 24, 2020, at his residence with his family by his side. Terry was born in Campbellton, New Brunswick, Canada to Harry and Elsa Flann.  Terry lived with his wife of 28 years JoAnn, my blood cousin. They lived in New Jersey.
Terry was a retired grain trader for Cargill, Inc. and Farmer's Export. There was also a certain bond between traders that others never seemed to know. Terry's birthday was October 29, 3 days before mine.
Terry did not die of COVID, but because of COVID, memorial services must be postponed. Jeffrey A. Tucker, the Editorial Director for the American Institute for Economic Research, wrote what mainstream media would call heresy.
"Republican governor [of George] moved forward [and the] shelter-in-place order was rescinded on April 30th and business was systematically restarted over the coming weeks. … Seven months later, there is no disaster. In deaths per capita, Georgia is below the national average. Excess deaths actually fell in the two months following their reopening, rising again in August, and now matching average deaths from 2014-2019. The demographics of death follow what we've seen around the world. Three quarters of the deaths are people 65 or older. Only 3% are under 40 years of age. One third occurred in nursing homes. The average age of death is 74. Of the 7 pediatric deaths, 5 had serious comorbidities."
Despite all the evidence that lockdowns do not work, for whatever reason, the Democratic governors are intent upon crushing their economy and disrupting normal life. I have heard from a number of people how their funerals were not allowed in New Jersey, Pennsylvania, and New York. As I have stated before, in 1969 Hong Kong flu killed 4x the number of people as COVID yet they even held Woodstock in the middle.
Something is seriously wrong to allow politicians to impose lockdowns without showing they have any benefit whatsoever. All they are doing is following the dictates of Klaus Schwab.
Terry, you closed out your trade. The book is square.