Posted Jul 1, 2019 by Martin Armstrong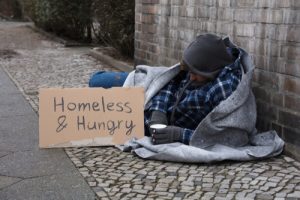 QUESTION:
Hi,
Enjoy your blog. Can you explain the cause of homelessness in the US and what should be the cure?
Thank you
Brian
ANSWER: Many of the homeless are not exactly social. Every time I drove into Philadelphia, I always saw the same man on the street with a sign saying he was homeless. He seemed to have all day to stand there with traffic, so the real question is why would he prefer to do that than just get a minimum wage job? When I was growing up in my home town in the 60's, there was a woman who pushed her shopping cart around and slept outside. Everyone got really upset when they found out her son was a doctor in the next town. He replied that he tried everything but she would not come inside. She died, and when they took all the boxes in her cart away they found over $200,000 in cash. Obviously, she seemed to be homeless as a matter of choice.
I would not pretend to be able to reduce the entire issue to a single simple solution. There are clearly mentally ill people among them, others down on their luck, and then there are the frauds. I have offered to buy food for some who claimed to be hungry only to be rebuked. I am not sure. I met a guy who played the violin really well. You could tell he had class and style. I gave him a $100 tip in his cup and he started to play very livelily.  I suppose you could set up shelters and outlaw people on the street. Then perhaps you might be able to sort them out. There are certainly different reasons and we cannot create a one-size-fits-all approach to that problem.