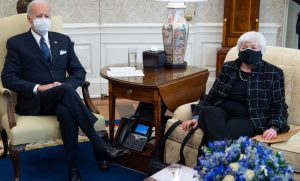 How does Janet Yellen still have a job? She is completely out of touch and merely a mouthpiece for the political elite. Treasury Secretary Janet Yellen had the audacity to claim that most Americans are happy with their financial situation despite every bit of data indicating otherwise. "So, they seem to perceive the economy as a whole as doing less well than they are personally. But most Americans feel good about their own economic situation."
The CNN reporter questioning Yellen mentioned a poll in question showing that 75% of Americans realize that the economy is in poor condition. Another 63% said they disapprove of how President Biden is addressing the economic crisis. The reporter asked Yellen if she could assure the people that prices would go down, and she said no. Inflation allegedly is declining based on government data but people are still paying significantly more for absolutely everything.
Yellen is completely in bed with the WEF and the BUILD BACK BETTER global elite. She admitted that the true reason behind the Inflation Reduction Act was to propel the climate change agenda. "The Inflation Reduction Act is, at its core, about turning the climate crisis into an economic opportunity," Yellen admitted. She is either mentally impaired or dismissive of the true struggles Americans face. Since Biden is incapable of campaigning, Yellen is traveling around the states and touting the imaginary success of Bidenomics.
The most inflationary driver is war. When questioned, Yellen said it was simply Russia's fault that the US was involved in this proxy war, and only the Russian economy is suffering. There are now questions on whether the white powdery substance found in the White House belongs to Yellen. She recently called the US debt downgrade "arbitrary" and disagrees with the data. She does not speak as an authority on economics, but rather, she speaks as if she were a puppet of the WEF implanted in government to spread economic-related propaganda.