Blog/Economics
Posted Sep 21, 2017 by Martin Armstrong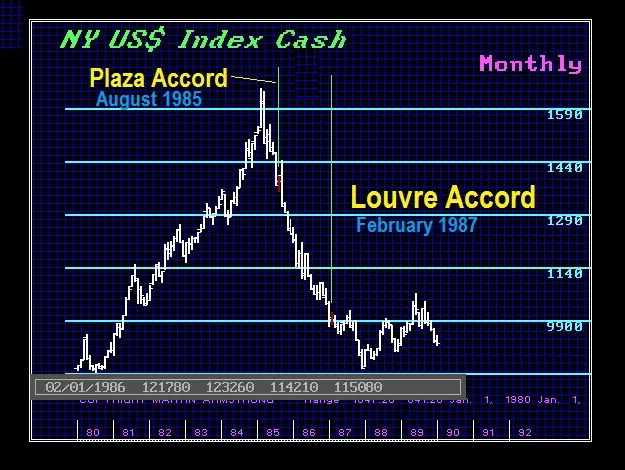 QUESTION: I notice you often cite the *Plaza Accord* when on the topic of central bank currency manipulation. That accord was signed in 1985 with an aim to devalue the USD. Could you write a little on the *Louvre Accord" signed just two years later, in 1987, with an aim to reverse the unwanted effects of the *Plaza Accord*. Thanks – cheers,
TGM
ANSWER: The Louvre Accord was an agreement, signed on February 22, 1987 in Paris, that aimed to stabilize the international currency markets and halt the continued decline of the US Dollar caused by the Plaza Accord. The agreement was signed by France, West Germany, Japan, Canada, the United States and the United Kingdom. Italy declined to sign the agreement.
The G7 meeting of central bankers and finance ministers in Paris announced that the dollar was now "consistent with economic fundamentals." The announced that they would only intervene when required to ensure foreign exchange stability. The objective was then to manage the floating currency system. Democrats gained control of Congress in 1986 and immediately called for protectionist measures. The dollar depreciation agreed to in 1985 at the Plaza Accord, failed to really improve the trade perspective. In 1986, the trade deficit actually rose to approximately $166 billion with exports at about $370 billion and imports at about $520 billion. The object of manipulating currency to try to create jobs and alter trade flows proved to be completely false.
My concerns warning that volatility would increase made back in 1985 were materializing. What they did not understand was the lowering the dollar in value also led to a shift in capital flows and the selling of US assets. Foreigners were suffering loses by financing U.S. trade through purchasing United States Treasury bonds in an attempt to ease the trade deficit criticism. We were advising Japanese to buy gold on the New York COMEX, export it, and then resell which would also make it appear that the US exports were increasing. However, the lower dollar was then resulting in the importation of inflation into their own nations.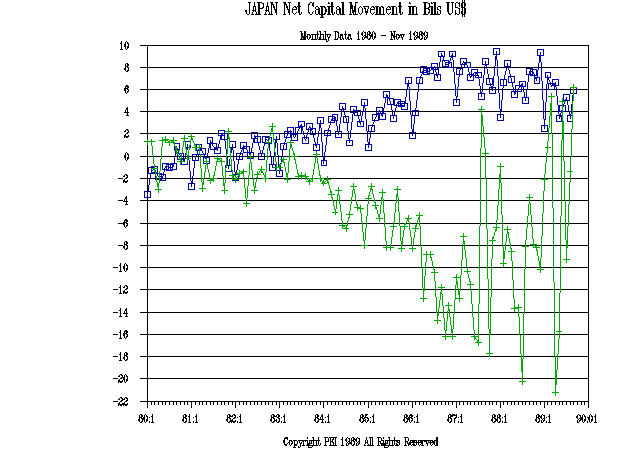 We can see that first of all the dollar had already begun a decline prior to the Plaza Accord in August 1985. By the time we arrived at the  Louvre Accord, you can also see that the dollar continued to decline. The attempt to manipulate the foreign exchange markets proved to beyond the capacity of the G5 which had been expanded to G7 and today is now G20. We can see the capital flow data between the USA and Japan began to move in early 1984 establishing the trend that nobody seemed to pay attention to at that moment.
The price action of the dollar clearly proves that the central banks lacked the power to truly influence the markets. The trend had begun prior to the Plaza Accord and it continued to decline following the Louvre Accord.