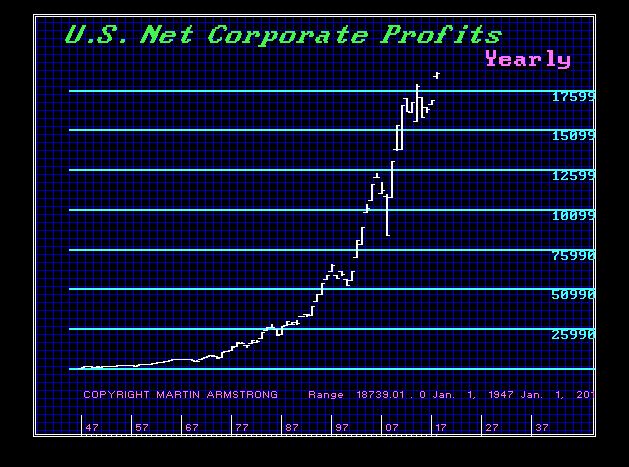 QUESTION: You posted that there should be a recessionary trend starting here in 2020 even in the United States. Does that mean corporate profits will decline which impacts the stock market?
JB
ANSWER: Yes. I warned at the WEC that we were approaching a point where we could see a correction unfold in US equities. Corporate earnings should have peaked after a 19-year rally in 2019. There was a major spike rally into 2018-2019 that has been impacted by the Trump tax cuts and the corporate buy-backs so earnings rise in proportion to outstanding shares. There should be a two-year correction into 2021.
Our correlation models show that since we actually have global cooling, despite all the desperate manipulation of the data to create an average that is rising, temperatures have been declining where people actually live. This is serious for as the real temperature declines, the flu season gets worse for example. The last major flu epidemic was 1968 and that became a pandemic that killed more than 1 million people. The overreaction to this coronavirus may be an intentional manipulation undermining the economy for political purposes.
Cyclically, this is economic-decline right on target. We have a Directional Change in 2021 and that is the next turning point. so I would expect we have seen the high in corporate profits and we have that correction unfolding into 2021.