Blog/AI Computers
Posted Sep 3, 2019 by Martin Armstrong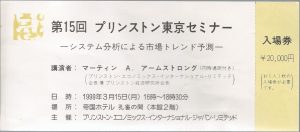 COMMENT: Marty; I found my ticket to your Japanese session from March 1999 when you warned the audience the club was targeting the yen for March-end. You told everyone how to defeat their manipulation and that was just great. You saved everyone billions that day. They called you Mr. Yen for that one. The club didn't appreciate that call. I heard that on the phones. I remember the yen went from 117 to 122. They lost a lot that week.
I am coming to this 2019 WEC. For someone who has been following you for decades, I understand what you mean that this is an event that has never taken place before in modern market history so we will really need Socrates this time.
May I suggest that you give a quick demo on how to use Socrates to its fullest for this event. I think it would be really helpful this year.
Cheers;
GC
REPLY: Nice to hear from you. Wow, you still have a ticket from Tokyo. That is an excellent suggestion. You are correct. I will do a demo and show how to look for the indicators because it will indeed take a computer to do what no human has ever seen before in modern times.
All the best