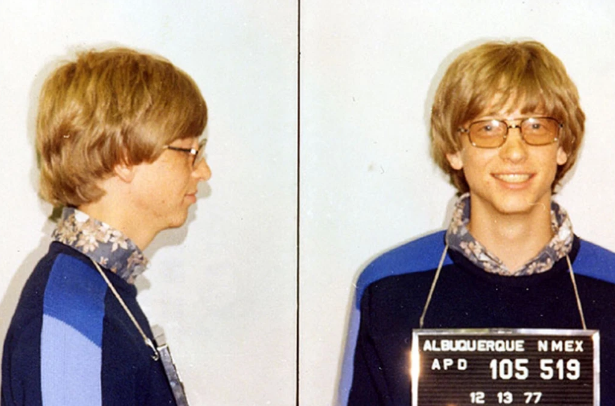 It has long been known behind the facade of the upstanding media that Bill Gates was not exactly the quiet nerd. The information surrounding his arrest has been scrubbed, so all that remains is the fact that he was arrested for a traffic violation with no other details. It is not likely he was arrested for just speeding. Gates has been hiding out in California for perhaps the last three months. That makes him a resident, and he should be hit with California state income taxes since they need so much money these days.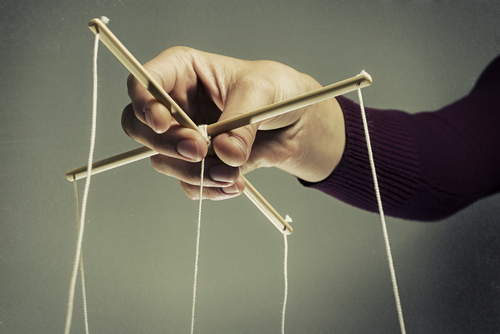 Gates' dream of extending his monopoly from the private sector (i.e., Microsoft) and transforming into dictator or puppet master of the world is starting to surface. He wishes to carry out his father's dream of reducing the population of the unworthy to save the planet from his imaginary climate crisis. Our model still warns that his and Klaus Schwab's dream of reducing the population will come because of their stupidity trying to force China and Russia to submit to their grand plan of the Great Reset. Their time remaining in this facade of control is short. It does not appear to last beyond 2022, but they have bribed politicians who will wrongly think that green is the way, and this will only lead to World War III post-2024.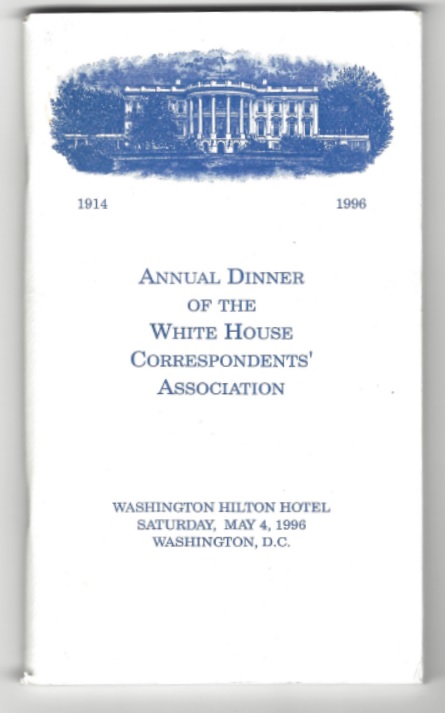 Gates' womanizing is starting to surface, as is the Nazi background of Schwab. Honestly, if this is what leads humanity, we can certainly see why it is doomed to be a new world that is anything but GREEN. It is one thing to be a womanizer like Bill Clinton, who is not trying to be the next Adolf opposed to Gates, who thinks he is so smart only his vision of how the world should work is valid — very Marxist. I was invited in 1996 to the White House Dinner. I sat with all the conservative journalists, including George Will. Clinton delivered a fantastic speech. They were growling and said, come on, you have to give it to him; he knows how to deliver a speech. So did FDR as well as Adolf Hitler. It takes charisma to deliver a great speech, and that has also been a talent among womanizers.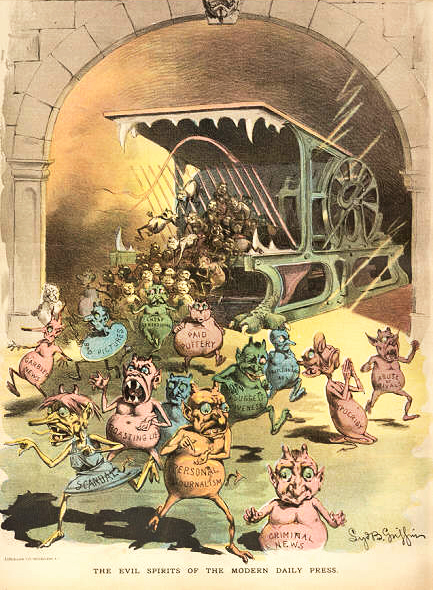 The press has been protecting Gates for a very long time. They have been taking grants from his foundation, including the British BBC. I have always offered advice to governments FREE because once you accept a dime, they will own you. Ironically, I have been called because they also know what advice I will deliver is untainted. Gates has bought the press just as he owns the WHO and is pulling the strings inside the United Nations along with Klaus Schwab.
Here is an illustration from Puck Weekly Magazine, "The Evil Spirits of the Modern Day Press," published Nov. 21, 1888. See, history repeats because the passions of man never change. You guessed it – that was the US presidential election held on Tuesday, November 6, 1888. It saw the incumbent Grover Cleveland (Democrat), challenged by the Republican Benjamin Harrison who won. Then too, the general election was pretty close with Cleveland winning the popular vote just like Hillary, but by almost 1%, while Harrison managed to win the electoral vote 233 to 168.
Here you have Harper's Weekly making fun of the fake news back then calling those in mainstream media in 1888 "evil." There are also no mirrors in the Washington Press Core. The press assumes they are important and are also above the common people they try to manipulate with their stories. It has always been about manipulating the public. Ryan Holiday wrote for Forbes, taking on the role of a whistle-blower from the media. He wrote:
"I know this because I am a media manipulator. My job was to use the media to make people do or think things they otherwise would not. People like me are there, behind the curtain, pulling the puppet strings. But that is about to get harder: I'm spilling my secrets to you and turned my talents from exploiting media vulnerabilities to exposing them—for your benefit."