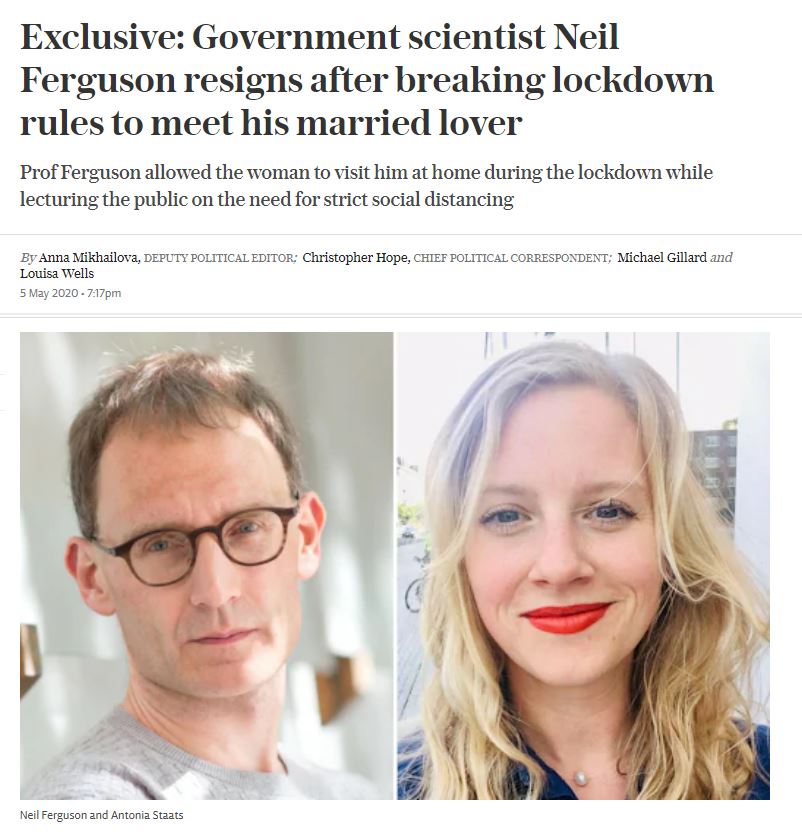 Here we go. The very claimed scientist whose advice led to Boris Johnson introducing lockdown measures to combat coronavirus has resigned from his government role after he breached the restrictions to meet his married lover at least TWICE. There is certainly a lack of any remorse or morality with Ferguson. This brings him into the class of a potential psychopath who cares nothing about the impact he has inflicted upon the entire world with people losing everything and in many places suicides outnumber the COVID-19 deaths.
Neil Ferguson, 51, met with his alleged married lover, Antonia Staats, allowing her to travel across London to visit him at his home despite the lockdown. Don't forget, it has been Ferguson who has continually stressed that is absolutely vital in stopping the spread of this con-coked killer virus which is less lethal than the flu.
Ms Staats, 38, lives with her husband, who is in his 30s, and their two children in a £1.9 million house in south London according to the press. She traveled across the city to visit the scientist on at least two occasions after the lockdown was announced on March 23.  It appears that there is one set of rule for the world, and another for Ferguson who it seems does not take his own advice perhaps because it was bought by Bill Gates's $79 million donation to Imperial College. Investigation anyone?
Ferguson of Imperial College was on the SAGE committee that advises the government on tackling the pandemic. This advice to lockdown the world came from this man. He forecast that 2 million Americans should be dead by now and 500,000 Britons would die without strict restrictions being put in place. In the fact of his dire repeated demands that the public follow lockdown measures, he himself met with his alleged lover on at least two occasions did not take this as a real threat since they were meeting secretly according to  the Telegraph.