Monetary History of
The Byzantine Empire
Currently under construction
---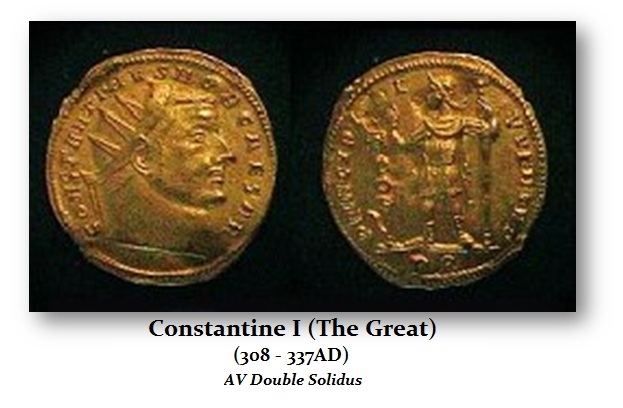 Constantinian dynasty (306-363)
1. Constantine I (Constantinus Pius Felix Invictus Augustus Pontifex Maximus Pater Patriae Proconsul; 272 – 337; ruled 306 – 337) – son of Constantius Chlorus
2. Constantius II (Flavius Iulius Constantius; 317 – 361; ruled 337 – 361) – son of Constantine I
3. Julian (Flavius Claudius Iulianus; 331 – 363; ruled 361 – 363) –son-in-law of Constantine I, brother-in-law and first cousin of Constantius II, grandson of Constantius I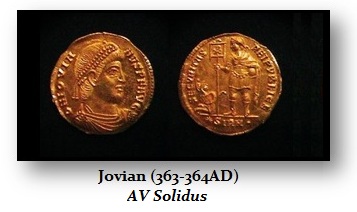 Non-dynastic
4. Jovian (Iovianus; 332 – 364; ruled 363 – 364) – soldier, restored Christianity
Valentinian-Theodosian dynasty (364-457)
5. Valentinian I (Flavius Valentinianus; 321 – 375; ruled 364) – soldier
6. Valens (Flavius Iulius Valens; 328 – 378; ruled 364 – 378) – brother of Valentinian I
7. Gratian (Flavius Gratianus; 359 – 383; ruled 378 – 379) – son of Valentinian I
8. Theodosius I (Flavius Gratianus; 346 – 395; ruled 379 – 395) – soldier
9. Arcadius (Flavius Arcadius; 377 – 408; ruled 395 – 408) – son of Theodosius I, brother of Honorius
10. Theodosius II (Flavius Theodosius; 401 – 450; ruled 408 – 450) – son of Arcadius
11. Pulcheria (Aelia Purcheria; 399 – 453; ruled 408 – 441, 450) – sister of Theodosius II
12. Marcian (Flavius Marcianus; 392 – 457; ruled 450 – 457) – soldier; married Pulcheria after Theodosius's death
Leonid dynasty (457-518)
13. Leo I the Thracian (Valerius Leo) (401-474, ruled 457 – 474) – soldier
14. Leo II (467 – 474, ruled 474) – grandson of Leo I, son of Zeno
15. Zeno (425 – 491, ruled 474 – 475) – son-in-law of Leo I
16. Basiliscus ( ? – c. 477, ruled 475 – 476) – usurper; brother-in-law of Leo I
Zeno (ruled 476 – 491) – restored
17. Anastasius I (430 – 518, ruled 491 – 518) – son-in-law of Leo I
Justinian dynasty (518-602)
18. Justin I (Flavius Iustinius; 450 – 527; ruled 518 – 527)
19. Justinian I the Great (Flavius Petrus Sabbatius Iustinianus; 482 – 565; ruled 527 – 565) – nephew and adoptive son of Justin I
20. Justin II (Flavius Iustinius Iunior; 520 – 578; ruled 565 – 578) – nephew of Justinian I
21. Tiberius II Constantine (Flavius Tiberius Constantinus; 540 – 582, ruled 574, 578 – 582) – adopted by Justin II
22. Maurice (Flavius Mauricius Tiberius; 539 – 602, ruled 582 – 602) – son-in-law of Tiberius II
23. Phocas (Flavius Phocas; ? – 610; ruled 602 – 610)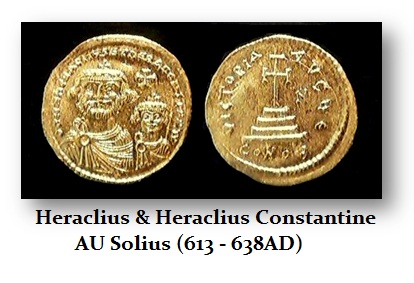 Heraclian dynasty (610-695)
24. Heraclius (575 – 641, ruled 610 – 641)
25. Heraclius Constantine (Constantine III) (612 – 641, ruled January 11th-April 20th, 641) – son of Heraclius; co-emperor with Heraklonas
26. Heraclonas (Constantine Heraclius)(626 – 641?, ruled April 20th-October 641) –(No Coins Issued)
27. Constans II (Heretic) (630 – 668, ruled 641 – 668) – son of Constantine III
28. Mezezius (668 – 669)
29. Constantine IV (649 – 685, ruled 668 – 685) – son of Constans II
30. Justinian II the Slit-nosed (668 – 711, ruled 685 – 695) – son of Constantine IV
31. Leontius (ruled 695 – 698)
32. Tiberius III (ruled 698 – 705)
Justinian II the Slit-nosed (ruled 705 – 711)
33. Philippicus Bardanes (ruled 711 – 713) – Armenian soldier
34. Anastasius II ( ? – 721, ruled 713 – 715)
35. Theodosius III (ruled 715 – 717)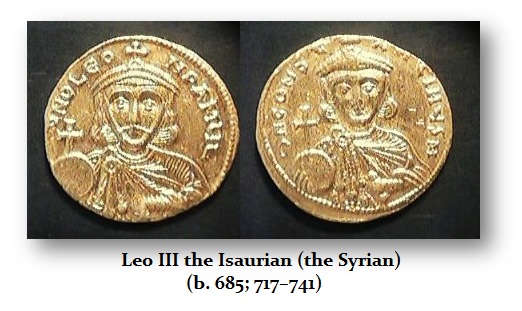 Isaurian dynasty (717-802)
36. Leo III the Isaurian (675 – 741, ruled 717 – 741)
37. Constantine V Kopronymos (the Dung-named) (718 – 775, ruled 741) – son of Leo III
38. Artabasdus the Icon-lover (ruled 741 – 743) – Leo III's son-in-law
39. Leo IV the Caesar (750 – 780, ruled 775 – 780) – son of Constantine V
40. Constantine VI the Blinded (771 – 797 or 805, ruled 780 – 797) – son of Leo IV
41. Irene the Athenian (755 – 803, ruled 797 – 802) – wife of Leo IV, mother of Constantine VI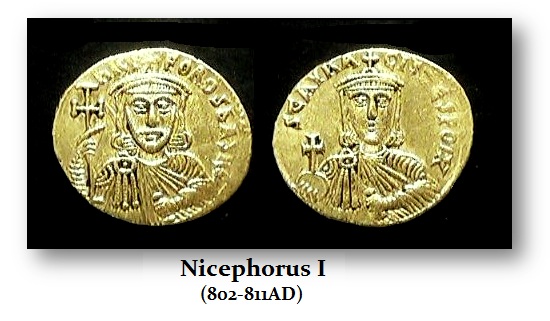 Nikephoros' dynasty (802-813)
42. Nikephorus I ( ? – 811, ruled 802 – 811)
43. Staurakius ( ? – 812, ruled 811) – son of Nikephorus I
44. Michael I Rangabe (ruled 811 – 813) – son-in-law of Nikephorus I
45. Leo V the Armenian (775 – 820, ruled 813 – 820)
46. Michael II the Stammerer or the Amorian (770 – 829, ruled 820 – 829) – son-in-law of Constantine VI
47. Theophilus (813 – 842, ruled 829 – 842) – son of Michael II
48. Theodora (ruled 842 – 855) – wife of Theophilus
49. Michael III the Drunkard (840 – 867, ruled 842 – 867) – son of Theophilus
50. Basil I the Macedonian (811 – 886, ruled 867 – 886) – married Michael III's widow
51. Leo VI the Wise (866 – 912, ruled 886 – 912)
52. Alexander (870 – 913, ruled 912 – 913) – son of Basil I
53. Constantine VII the Purple-born (905-959, ruled 913 – 959) – son of Leo VI
54. Romanus I Lekapenos (870 – 948, ruled 919 – 944) – father-in-law of Constantine VII
55. Romanus II the Purple-born (939 – 963, ruled 959 – 963) – son of Constantine VII
56. Nicephorus II Phocas (912 – 969, ruled 963 – 969) – married Romanos II's widow
57. John I Tzimiskes (925 – 976, ruled 969 – 976) – brother-in-law of Romanus II
58. Basil II the Bulgar-slayer (958 – 1025, ruled 976 – 1025) – son of Romanos II
59. Constantine VIII (960-1028, ruled 1025 – 1028) – son of Romanos II
60. Zoe (c. 978 – 1050, ruled 1028 – 1050) – daughter of Constantine VIII
61. Romanus III Argyros (968 – 1034, ruled 1028 – 1034) – Zoe's first husband
62. Michael IV the Paphlagonian (1010 – 1041, ruled 1034 – 1041) – Zoe's second husband
63. Michael V the Caulker (1015 – 1042, ruled 1041 – 1042) – Michael IV's nephew, Zoe's adopted son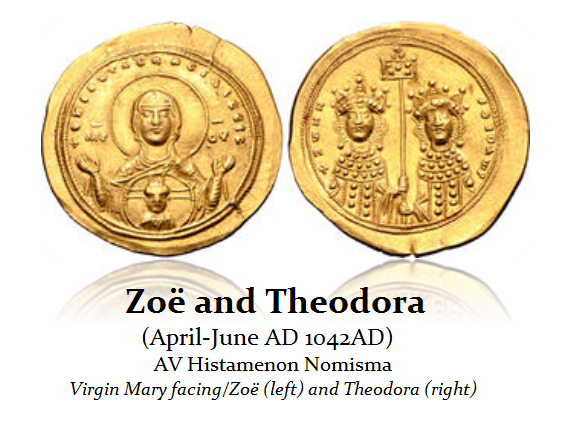 64. Zoe & Theodora (980 – 1056, ruled 1042) – daughter of Constantine VIII, co-empress with Zoe
65. Constantine IX Monomachus (1000 – 1055, ruled 1042 – 1055) – Zoe's third husband & Great Schism
Theodora (ruled 1055 – 1056)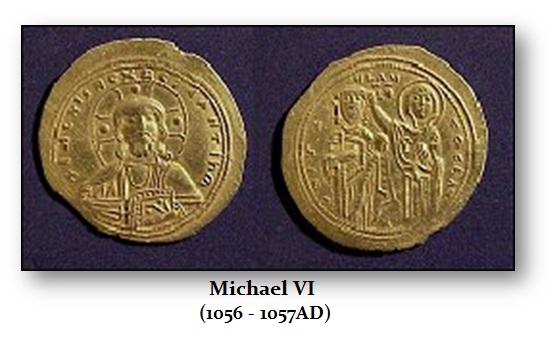 Non-dynastic
66. Michael VI the General (ruled 1056 – 1057) – chosen by Theodora
Comnenid Dynasty
67. Isaac I Comnenus (c. 1007 – 1060, ruled 1057 – 1059) – soldier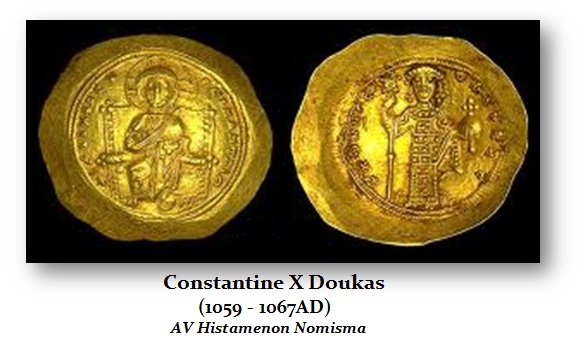 Doukid dynasty (1059-1081)
68. Constantine X Doukas (1006 – 1067, ruled 1059 – 1067)
69. Michael VII Doukas Quarter-short (1050 – 1090, ruled 1067 – 1078) – son of Constantine X
70. Romanus IV Diogenes (1032 – 1072, ruled 1068 – 1071) – married Constantine X's widow
71. Nikephorus III Botaneiates (1001 – 1081, ruled 1078 – 1081)
Comnenid dynasty (restored, 1081-1185)
72. Alexius I Comnenus (1057 – 1118, ruled 1081 – 1118) – nephew of Isaac I, married Constantine X's grandniece
73. John II Comnenus the Handsome (1087 – 1143, ruled 1118 – 1143) – son of Alexius I
74. Manuel I Comnenus the Great (1118 – 1180, ruled 1143 – 1180) – son of John II
75. Alexios II Comnenus (1169 – 1183, ruled 1180 – 1183) – son of Manuel I
76. Andronikos I Comnenus (1118 – 1185, ruled 1183 – 1185) – nephew of John II; married Alexius II's widow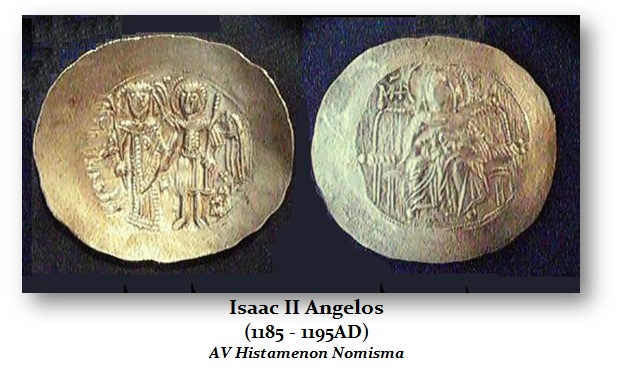 Angelid dynasty (1185-1204)
77. Isaac II Angelos (1156 – 1204, ruled 1185 – 1195) – great-grandson of Alexios I
78. Alexius III Angelus (1153 – 1211, ruled 1195 – 1203) – brother of Isaac II
79. Alexius IV Angelus (1182 – 1204, ruled 1203 – 1204) – son of Isaac II
80. Nikolaus Kanabus (ruled 1204)
81. Alexius V Doukas (1140 – 1204, ruled 1204) – son-in-law of Alexius III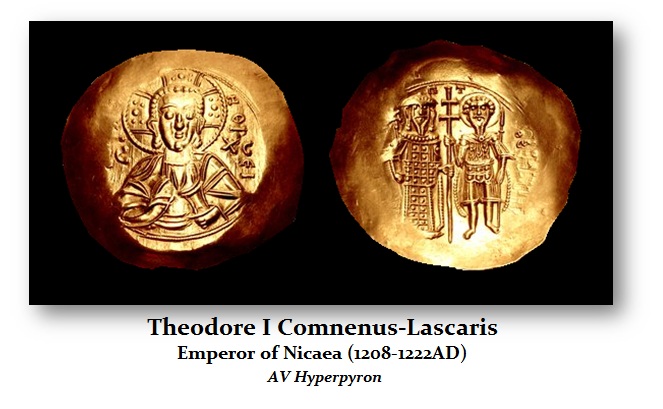 Laskarid dynasty (in exile, Empire of Nicaea, 1204-1261)
82. Constantine Laskaris (ruled 1204) – not officially crowned
83. Theodore I Laskaris (1174 – 1222, ruled 1204 – 1222) – son-in-law of Alexios III
84. John III Doukas Vatatzes (1192 – 1254, ruled 1222 – 1254) – son-in-law of Theodore I
85. Theodore II Doukas Laskaris (1221 – 1258, ruled 1254 – 1258) – son of John III
86. John IV Doukas Laskaris (1250 – 1305, ruled 1258 – 1261) – son of Theodore II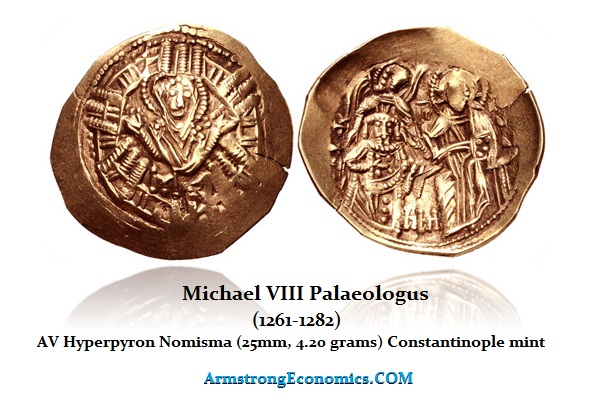 Palaeologan Dynasty (restored to Constantinople, 1259-1453)
87. Michael VIII Palaiologos (b 1224, ruled 1259 – 1282) – great-grandson of Alexios III Angelus
88. Andronicus II Palaiologos the Elder (b 1258, ruled 1282 – 1328) – son of Michael VIII
89. Andronicus III Palaiologos the Younger (b 1297, ruled 1328 – 1341) – grandson of Andronicus II
90. John V Palaeologus (b 1332, ruled 1341 – 1347) – son of Andronicus III
91. John VI Cantacuzenus (b 1295, ruled outright 1347 – 1354) – father-in-law of John V
John V Palaeologus (ruled 1354 – 1376)
92. Andronicus IV Palaeologus (b 1348, ruled 1376 – 1379) – son of John V
John V Palaeologus (ruled 1379 – 1390)
93. John VII Palaeologus (1370 – 1408, ruled 1390) – son of Andronicus IV
John V Palaeologus (ruled 1390 – 1391)
94. Manuel II Palaeologus (b 1350, ruled 1391 – 1425) – son of John V
John VII Palaeologus (ruled 1399 – 1402)
95. John VIII Palaeologus (b 1392, ruled 1425 – 1448) – son of Manuel II
96. Constantine XI Palaeologus (b 1405, ruled 1449 – 1453) – son of Manuel II
Ottomans
In 1453 Mehmed II overthrew the Byzantine Empire and claimed the title of Kaisar; his successors continued this claim. See Ottomans for the complete list of Ottoman sultans.
Palaiologan Dynasty (in exile)
Thomas Palaiologos (1409 or 10 – 1465) – brother of Constantine XI
Andrew Palaiologos (1453 – 1502) – son of Thomas; sold titles to Charles VIII in 1494 and granted the remainder to King Ferdinand II of Aragon and Queen Isabella of Castille in his will.
---
Monetary History of the World
© Martin A. Armstrong