Macrinus

217-218 AD
---
M. Opelius Macrinus was born to very humble parents in Caesarea in Mauretania in 164 AD. After holding various appointments in the imperial household, he became prefect of the Praetorian guards under Caracalla and was party to the latter's murder. On April 11th, 217AD, he was saluted Augustus by his troops, and his elevation was confirmed by the Senate, which was much relieved by the death of Caracalla. He raised his son to reign jointly with himself – Diadumenian.
Macrinus negotiated peace with the Parthians, but the terms were so unfavorable to the Romans that Macrinus lost much of his popularity. This allowed a conspiracy to materialize at the instigation of Julia Maesa, the sister of Julia Domna, who was the mother of Caracalla.  in favor of her grandson Bassianus (Elagabalus), causing the Syrian army to break into open revolt. In the ensuing struggle, Macrinus was defeated and fled to Chalcedon, but was betrayed, captured, and put to death after a reign of fourteen months.
---
Titles and Powers, 217-218 AD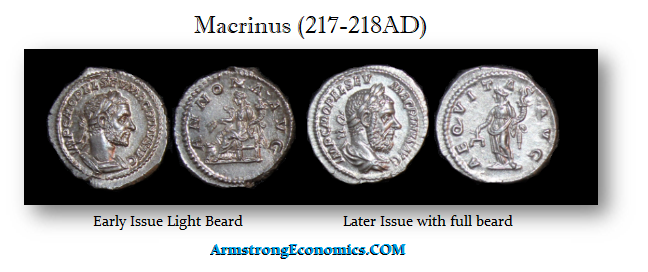 Yr Tribunician Power Imp Acc Consul Other
217 TR P IMP COS AVGVSTVS PM P P
218 TR P II COS
Macrinus renewed his tribunician power on January 1st, 218 AD.
---
Monetary System
Mints: Rome, Antioch (?); Emesa
Obverse Legends:
IMP C M OPEL SEV MACRINVS AVG
IMP CAES M OPEL SEV MACRINVS AVG
---

DENOMINATIONS
AU Aureus (6.54 grms)
AU Quninarius
AR Antoninianus
AR Denarius (3.54 grms)
AR Quinarius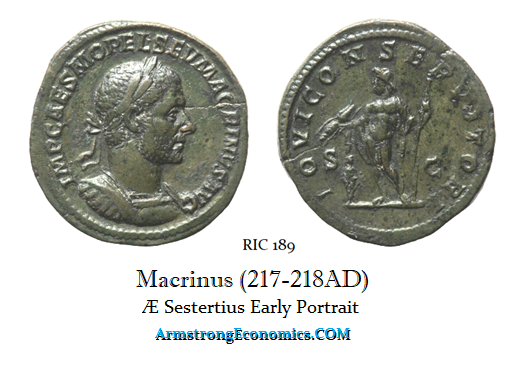 ---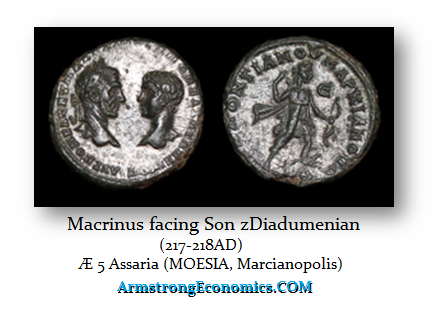 MOESIA
Æ 5 Assaria (MOESIA, Marcianopolis) Macrinus facing Disdumenian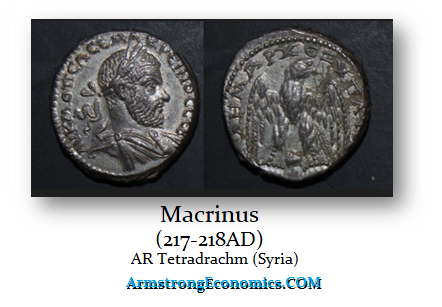 SYRIA
AR Tetradrachm (14.1 grams)
---
Monetary History of the World
by Martin A. Armstrong
© Martin A. Armstrong