Julia Cornelia Paula

First Wife of Elagabalus in
219-220 AD
---
Julia Cornelia Paula was the first wife of Emperor Elagabalus. They were married in 219 AD, but due to her husband's sexual prowess, she was divorced the following year for him to marry Aquilia Severa.
Nonetheless, Herodian tells us that Paula was a lady of very noble descent. Her father, Julius Paulus, was an important jurist active throughout the Severan Dynasty. He also served as the Praetorian Prefect of Rome between 228 and 235 AD. Because of her noble birth, Julia Maesa arranged for the marriage to marry her grandson to elevate his status within Rome. Julia Maesa put on a huge lavish wedding which was on display for all of Rome to witness. Paula was then given the title Augusta.
The following year, Elagabalus divorced her to marry the Vestal Virgin Aquilia Severa in a union that was considered scandalous because she was still a Vestal. To overcome this problem, Elagabalus married Severa as a part of the religious process of worshiping the Syrian Sun God El-Gabal and integrating El-Gabal into the Roman religion.
Elagablus was at least not like Henry VIII. He simply divorced Paula and she returned to private life. Fortunately, she had no children with Elagabalus. She faded from history thereafter.
---
Monetary System

Mints: Rome, Antioch, possibly additional Eastern mints
Obverse Legends:
IVLIA PAVLA AVG.
Portrait Styles:

1) Draped bust right.
2) Draped bust right with Diadem.
Note:There are three distinct types of hair style. Smooth hair tends to be the work of Rome where a braided hair style with or without a bun at the back of the head are the works of Eastern mints.
---
DENOMINATIONS
AU Aureus (very rare)
AR Denarius
AR Quinarius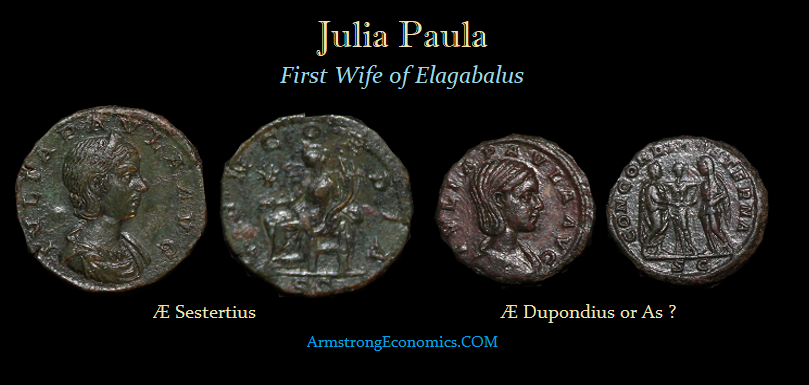 AE Sestertius
AE Dupondius
AE As
---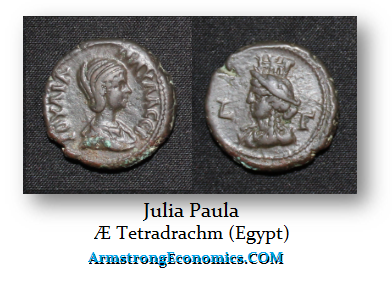 EGYPT
AE Tetradrachm (Egypt)
---
The Monetary History of the World
 © Martin A. Armstrong