Marcus Antonius Gordianus II

Gordian II Africanus
238 AD
---
Marcus Antonius Gordianus was the son of Gordian I and the uncle of Gordian III. He was born about 192 AD and II was made co-emperor by his father immediately upon his elevation to the throne in 238 AD. While Gordian I was hailed emperor by the troops in Africa, the Senate of Rome did confirm that status and declared Maximinus I to be a public enemy. Unfortunately, before the new of their confirmation arrived from Rome, Gordian II died in battle on April 12th, 238 AD at Carthage. Upon learning of his son's death, Gordian I took his own life. His nephew, Gordian III, was later given the rank of Caesar by Pupienus and Balbinus who were appointed as joint emperors by the Senate of Rome.
---
Monetary System
On the coinage of Gordian II, his portrait is depicted with a bald forehead, showing little hair in front of the laurel wreath.
NOTE: While no known gold coinage has survived, it is likely that an issue of gold aureii was struck particularly given the state of uncertainty and the pronounced degree of inflation.
Mints: Rome
Obverse Legends:
IMP M ANT GORDIANVS AFR AVG
IMP CAES M ANT GORDIANVS AFR AVG
---
DENOMINATIONS
AR Denarius (3.54 grams)
Æ Sestertius (24.01 grams)
---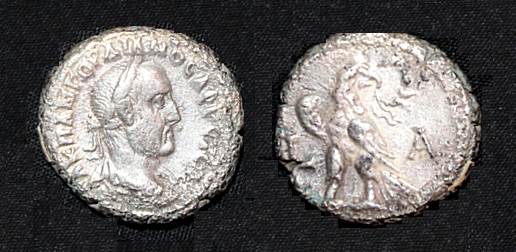 EGYPT
Æ Tetradrachm (Egypt)
---
Monetary History of the World
by Martin A. Armstrong
© Princeton Economic Institute