Marcus Aurelius
161 – 180 AD
Born 121 – died 180 AD, age 59
---
MARCUS ANNIUS VERUS was born in Rome in 121 A.D., the son of Annius Verus and Domitia Lucilla. Hadrian recognized the fine qualities of the youth and he was originally betrothed to the daughter of Aelius Caesar After the death of Aelius, he was adopt ed by his uncle, the Emperor Antoninus Pius, and took the name of MARCUS AELIUS AURELIUS VERUS. In 139, he was given the title of Caesar, and in 146 he married Faustina Junior, the daughter of Antoninus Pius. The tribunician power was conferred upon him in 147, and his succession to the throne on March 7th, 161 A.D., was smooth. He immediately admitted Lucius Verus (who was also adopted by Antoninus Pius at the same time as Aurelius) as his partner in the administration, and betrothed him to his daughter Lucilla. Aurelius' reign was disturbed by many frontier wars, and the legions returning from the Parthian War in 166 A.D. brought with them a plague, which spread throughout the empire and left many districts almost depopulated. Antoninus P ius' neglect of the Empire's frontiers caused Aurelius to spend much of the latter part of his reign campaigning against the Marcomanni on the Danube frontier A revolt, inspired by Avidius Cassius in Syria, was ended by Cassius' assassination in 175 A.D.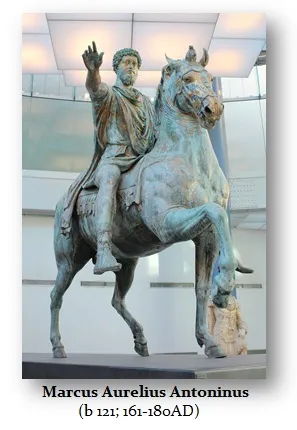 His training as a child in stoic philosophy (which had evolved from its basic "Virtue for Nature's Sake" axiom to also encompass intolerance of "outside" religious thought) caused him to oppose the spread of Christianity because of the Christians' refusal to participate in the worship of the Roman Gods. Aurelius believed Christianity undermined his administration in contrast to the views of his father, whose tolerance of all religions was well known in the Empire. It was under Aurelius' administration that the Christians were brought to the Circus Maximus in Rome to be used as bait for wild beasts and targets for gladiators for the amusement of Rome's citizens.
Aurelius' thoughts on his life, responsibilities, and aspirations, during his campaigns were documented in his celebrated "Meditations." He died on March 17th, 180 A.D., and was immediately deified. It has been written of Aurelius that "in the evening of Rome's greatness her ruler fittingly personified the virtues that had been her glory." He was a careful, generous and conscientious ruler and is best remembered for his devotion to stoicism. It is ironic that along with Nero, he will also be rem embered for his brutal persecution of Rome's Christians. The death of Aurelius saw the end of Rome's "happiest years" which had commenced with the death of Domitian in 96 A.D., through the reigns of Nerva, Trajan, Hadrian) Antoninus Pius, and Marcus Aurelius (the so-called good Emperors)-a span of 184 "golden" years.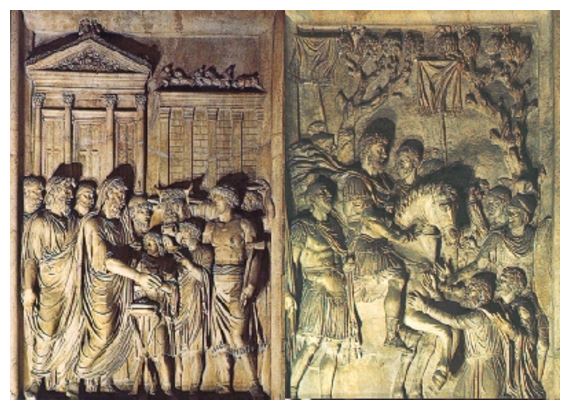 Reliefs from the Triumphal Arch built by the Senate in 176 AD.
The surviving reliefs are in the Capitoline Museum. Portions of the Arch were also incorporated into the Arch of Constantine. The whereabouts of Marcus' Arch are not actually known.
---
Titles and Powers, AD 139-180
AD Tribunician Power Imperatorial Consulship Other Titles
139 COS.DES. CAESAR.
140 COS.
141
142
143
144 COS.DES.II.
145 COS.II.
146
147 TR.P. – TR.P.II.
148 TR.P.II. – III.
149 TR.P.III. – IIII.
150 TR.P.IIII. – V.
151 TR.P.V. – VI.
152 TR.P.VI. VII.
153 TR.P.VII. – VIII.
154 TR.P.VIII. – VIIII.
155 TR.P.VIIII. – X.
156 TR.P.X. – XI.
157 TR.P.XI. – XII.
158 TR.P.XII. – XIII.
159 TR.P.XIII. – XIIII.
160 TR.P.XIIII. – XV.
161 TR.P.XV. – XVI. IMP. COS.III AVGVSTVS. P.M.
162 TR.P.XVI. – XVII.
163 TR.P.XVII. – XVIII. IMP.II.
164 TR.P.XVIII. – XVIIII. ARMENIACVS.
165 TR.P.XVIIII. – XX. IMP.III.
166 TR.P.XX. – XXI. IMP.IIII. PARTH.MAX.MEDICVS. P.P.
167 TR.P.XXI. – XXII.
168 TR.P.XXII. – XXIII. IMP.V.
169 TR.P.XXIII. – XXIIII.
170 TR.P.XXIIII. – XXV.
171 TR.P.XXV. – XXVI. IMP.VI.
172 TR.P.XXVI. – XXVII.
173 TR.P.XXVII. – XXVIII.
174 TR.P.XXVIII. – XXVIIII. IMP.VII.
175 TR.P.XXVIIII. – XXX. IMP.VIII. GERM. SARM.
176 TR.P.XXX. – XXXI.
177 TR.P.XXXI. – XXXII. IMP.VIIII.
178 TR.P.XXXII. – XXXIII.
179 TR.P.XXXIII. – XXXIIII. IMP.X.
180 TR.P.XXXIIII.
Aurelius became TR.P.II. on December 10th, 147 AD. His tribunician power was subsequently renewed each year on that date.
---
Monetary System
Monetary reform under Marcus Aurelius took the form of a steady yet gradual improvement of the currency. The Silver denarius between 161-165 AD maintained a fineness of 77.5%. This gradually increased to 80% between 165 and 169 AD. However, a decline seems to have begun in 170 with the silver content dropping to 78% through 174 AD. During the period of 175-179 AD, the silver content rose only marginally to 78.5%.
Mints: Rome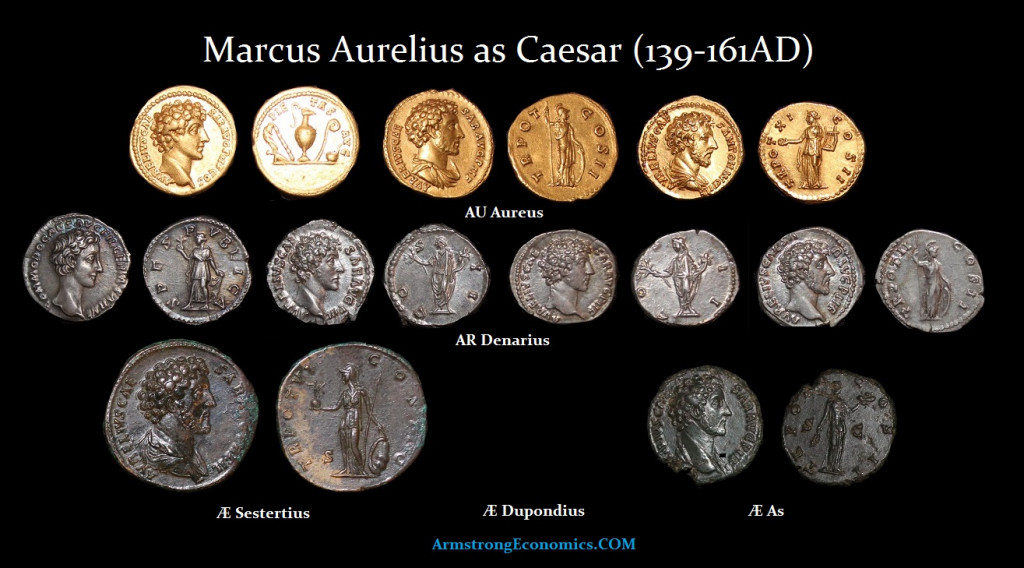 139-161AD under Antoninus Pius as Caesar
Obverse Legends:
AVRELIVS CAESAR AVG. PII F
AVRELIVS CAESAR AVG . PII F . COS.
AVRELIVS CAESAR AVG. PII FIL.
AVRELIVS CAES . ANTON. AVG. PII F.
AVRELIVS CAESAR ANTONINI AVG . PII FIL.
Portrait Styles
Bare-head right
Bare-head draped and/or cuirassed bust right
DENOMINATIONS
AU Aureus (7.23 grms)
AU Quninarius
AR Denarius (3.36 grms)
Æ Sestertius (23.9 grms)
Æ Dupondius
Æ As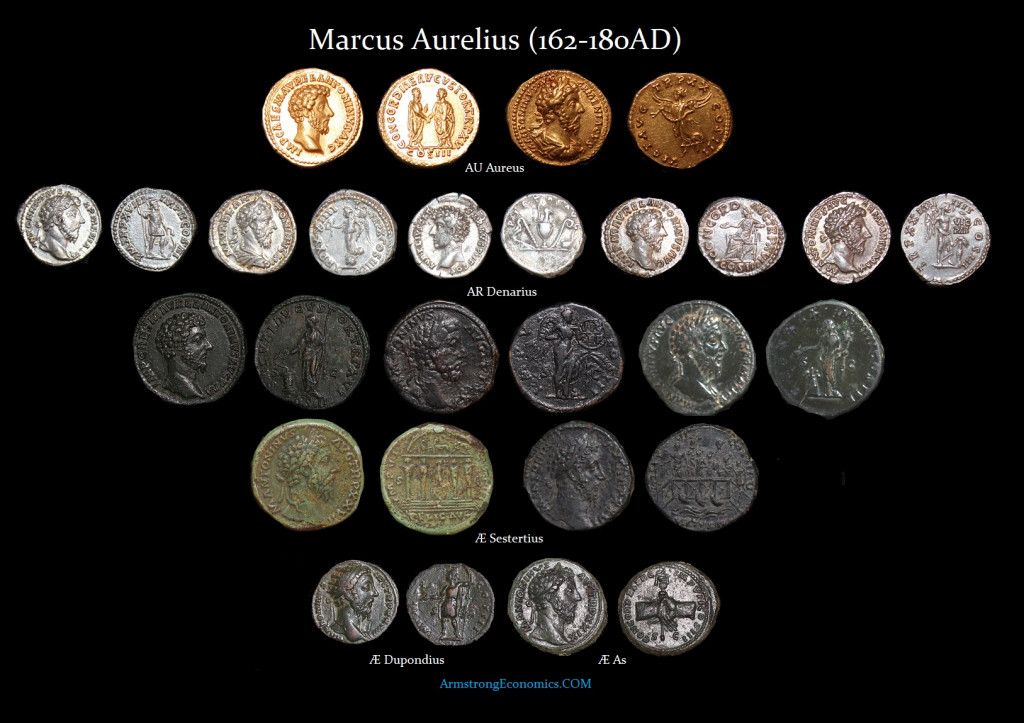 162-180AD Marcus Aurelius as Augustus
Obverse Legends:
M. ANTONINVS AVG . ARMENIACVS.
M . ANTONINVS AVG . GERM. SARM.
M . ANTONINVS AVG . TR . P. XXIII. (-XXIX).
M . AVREL . ANTONINVS AVG.
M . AVREL. ANTONINVS AVG . ARM . PARTH . MAX.
M . AVREL . ANTONINVS AVG . ARMENIACVS P. M.
IMP . M . ANTONINVS AVG.
IMP. M . AVREL. ANTONINVS AVG.
IMP.C,AES.M.AVREL.ANTONINVSAVG.P.M.
Portrait Styles
Laurate head right
Laurate draped and/or cuirassed bust right
DENOMINATIONS
AU Aureus (7.23 grms)
AU Quninarius
AR Denarius (3.36 grms)
AR Quinarius
Æ Sestertius (23.9 grms)
Æ Dupondius
Æ As
---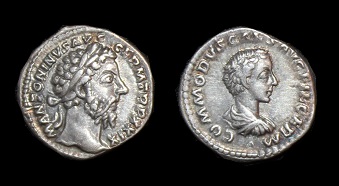 Marcus Aurelius with Commodus
DENOMINATIONS
AR Denarius (3.36 grms)
---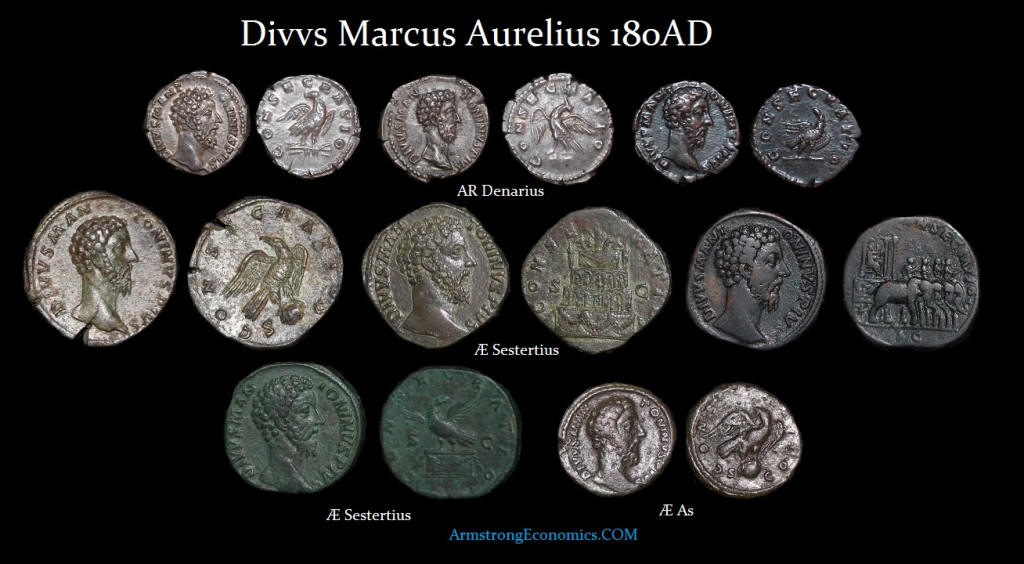 Divvs Marcus Aurelius died 180AD
Obverse Legends:
DIVVS M ANTONINVS PIVS.
Portrait Styles
Bear head right
DENOMINATIONS
AU Aureus (7.23 grms)
AR Denarius (3.36 grms)
Æ Sestertius (23.9 grms)
Æ As (Divvs struck by Commodus)
---
Colonial Issues
AR Didrachm
AR Didrachm (Caesarea)
AR Tetradrachm (Syria)
AR Tetradrachm (Egypt)
AR Tetradrachm w/Lucius Verus (Egypt)
AR Tetradrachm w/Faustina Jr (Egypt)