Marcus Aurelius
161 – 180 AD
Born 121 – died 180 AD, age 59
---
MARCUS ANNIUS VERUS, the stoic philosopher, was born in Rome in 121 A.D., the son of Annius Verus and Domitia Lucilla. Hadrian recognized the fine qualities of the youth, and he was originally betrothed to the daughter of Aelius Caesar. After the death of Aelius, he was adopted by his uncle, Emperor Antoninus Pius, and took the name MARCUS AELIUS AURELIUS VERUS. In 139AD, he was given the title of Caesar, and in 146, he married Faustina Junior, the daughter of Antoninus Pius. The tribunician power was conferred upon him in 147AD, and his succession to the throne on March 7th, 161 A.D., was smooth.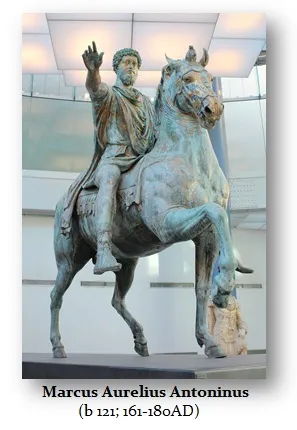 Marcus Aurelius immediately admitted Lucius Verus (who was also adopted by Antoninus Pius at the same time as Aurelius) as his partner in the administration and betrothed him to his daughter Lucilla. Aurelius' reign was disturbed by many frontier wars, and the legions returning from the Parthian War in 166AD brought a plague that spread throughout the empire and left many districts almost depopulated.
Marcus' training as a child in stoic philosophy (which had evolved from its basic "Virtue for Nature's Sake" axiom also to encompass intolerance of "outside" religious thought) caused him to oppose the spread of Christianity because of the Christians' refusal to participate in the worship of the Roman gods. Marcus believed Christianity undermined his administration in contrast to his father's views, whose tolerance of all religions was well-known in the Empire. Under Marcus' administration, Christians were brought to the Circus Maximus in Rome to be used as bait for wild beasts and targets for gladiators. This was the amusement of Rome's citizens in those days.
Marcus' thoughts on his life, responsibilities, and aspirations during his campaigns were documented in his celebrated "Meditations." He died on March 17th, 180 AD, and was immediately deified. It has been written that Marcus Aurelius was "in the evening of Rome's greatness, her ruler fittingly personified the virtues that had been her glory." He was a careful, generous, and conscientious ruler and is best remembered for his devotion to stoicism.
Ironically, along with Nero (54-68AD), he will also be remembered for his brutal persecution of Rome's Christians. The death of Marcus Aurelius saw the end of Rome's "happiest years," which had commenced with the death of Domitian (81-96AD). These were regarded as the "golden" years" which spanned 184 years.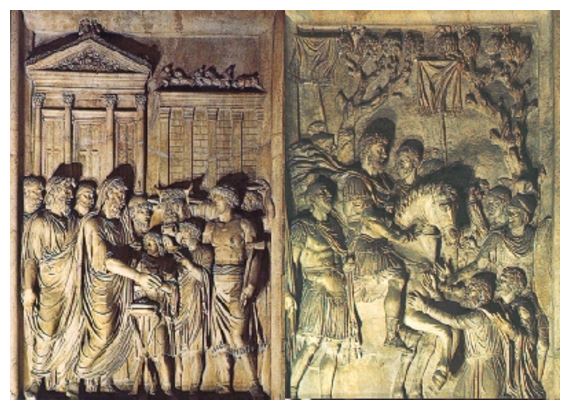 Reliefs from the Triumphal Arch were built by the Senate in 176 AD.
The surviving reliefs are in the Capitoline Museum. Portions of the Arch were also incorporated into the Arch of Constantine. The whereabouts of Marcus' Arch are not actually known.
---
Aurelius' Ambassador to China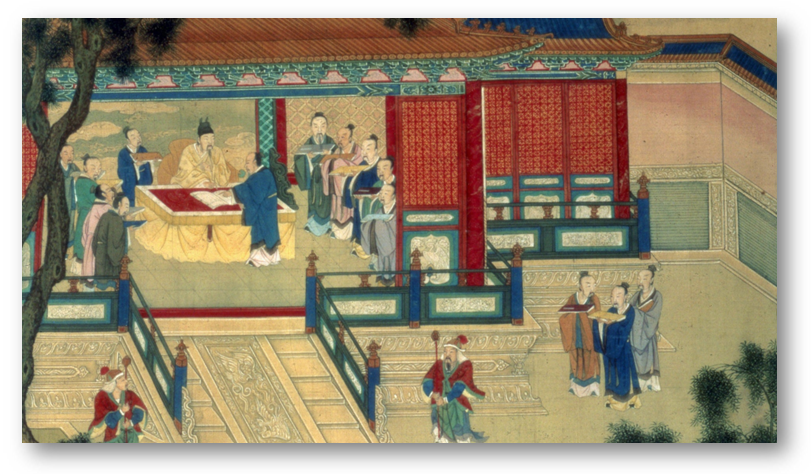 Yet the history of Rome that claimed to rule the world (orbis terrarum) stood at the opposite end of the world from the strikingly similar Han Dynasty (206BC-220AD) in China, which also claimed to have ruled the world (tianxia). The History Book for Tang Dynasty in China covers the period 618-907AD. Yet the text mentions 17 times what appears to be the Roman Empire. It also describes an envoy that the Roman Emperor sent to China. The Roman Emperor was recorded to have been "Anton." The account of such an envoy who visited the older Han Dynasty predates the Venetian traveler Marco Polo (1254-1325) by more than 1,000 years. This envoy has been attributed to 166AD during the reign of Marcus Aurelius Antoninus (121-180AD). Marcus Aurelius' death marked the peak of the Roman Empire and the turning point that began the Decline and Fall of the Roman Empire, where its monetary system collapsed just 72 years thereafter. This envoy established diplomatic contact at the peak of the Roman Empire, from which a disastrous decline began. Any political-economic aspirations to further such a relationship would then die with Marcus Aurelius. Yet also, both empires would suffer the same fate of barbarian invasions. The Han Dynasty fell in 220AD, emerging from the chaotic period known as the Three Kingdoms (220-280AD) – the division of the once unified Chinese Empire.
The Western Regions, according to the
---
Barbarian Invasions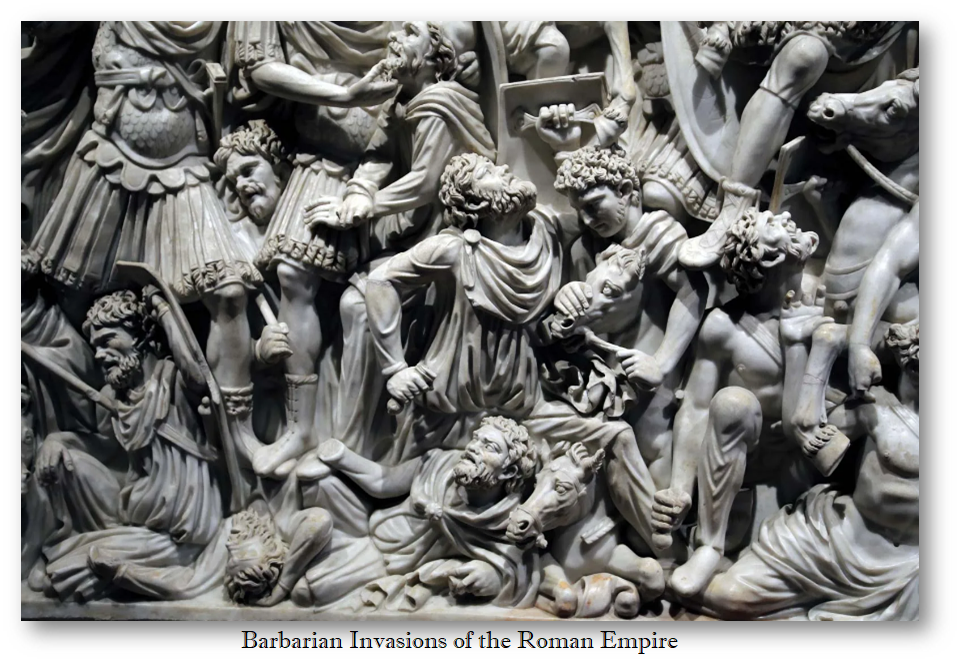 Antoninus Pius' neglect of the Empire's frontiers caused Aurelius to spend much of the latter part of his reign campaigning against the Germanic Marcomanni on the Danube frontier. Gaius Avidius Cassius (c. 130–175AD) was a general who became a usurper in Syria. In 175, one version claims that there was a rumor that Marcus Aurelius had died of the plague. Cassius declared himself emperor, claiming that Aurelius' troops in Pannonia, where he had been leading troops during the Marcomannic Wars, had elected him emperor. He apparently believed that he also had the support of Syria and Egypt. Yet, it is strange that it appears he did not issue any coinage. His usurpation ended with his assassination in 175AD.
Immigration was a major crisis that began during the reign of Marcus Aurelius, thanks to the neglect of the borders as we see in modern times. Numerous German tribes wanted to move into the Roman Empire for economic benefit and climate. They were not inclined to adopt Roman customs and language but wanted to retain their own culture, just as Muslims invaded Europe and demanded that they retain their Shira Law. They also were not inclined to pay taxes in modern times, as was the case during this invasion into the Roman Empire of the 2nd and 3rd centuries.
The German tribes wanted to live in areas of the Roman Empire they conquered. They were not inclined to live peacefully in coexistence with the Romans or respect their customs. Marcus Aurelius was the last of the Five Good Emperors, for he was also the first who had to deal with this mass immigration by the barbarian tribes. The Marcomanni and Quadi crossed the Danube in 169 AD, marched across several provinces, and even invaded Northern Italy. This was a major crisis for the Romans culturally, economically, as well as from a security perspective. Italy had not seen any invasion by a foreign power for several centuries following the Punic Wars and the days of Hannibal of Carthage. Marcus Aurelius would spend most of the last eleven years of his reign fighting the German Wars.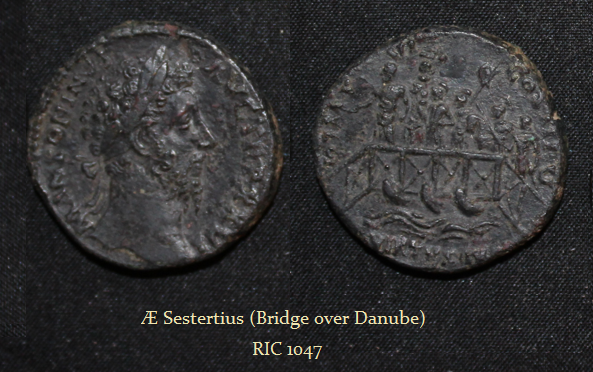 It is possible that Marcus died of the plague while fighting on the German frontier in 180 AD. Although he successfully stopped the invasion, his successors would prove less successful. This Roman sestertius illustrates Marcus' achievement in building a bridge across the Danube and invading the territory of the barbarian tribes. In fact, it was the German tribes who would eventually help to bring down the Western Roman Empire.
---
The Miracle of the Rain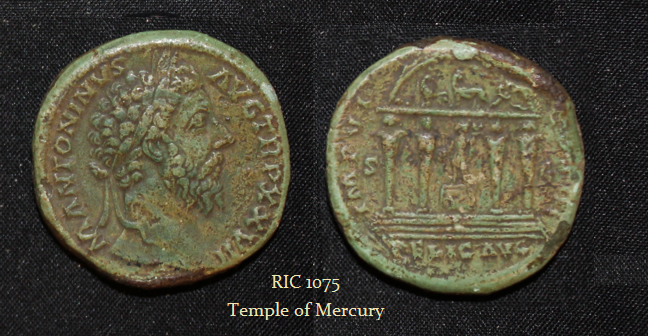 This issue of Sestertius with the Temple of Mercury is believed to have referred to the famous rain miracle of the "Thundering Legion." While battling Quadi forces along the Danube in 173AD, the Legio XII Fulminata was exhausted and out of water rations. They were close to defeat at the hand of the Germanic barbarians. Defeat seemed imminent until a sudden rainstorm helped the troops. Marcus attributed the storm to the grace of their god Mercury, while an alternative Christian version credited the prayers of Christian soldiers serving in the legion.
---
Titles and Powers, AD 139-180
AD Tribunician Power Imperatorial Consulship Other Titles
139 COS.DES. CAESAR.
140 COS.
141
142
143
144 COS.DES.II.
145 COS.II.
146
147 TR.P. – TR.P.II.
148 TR.P.II. – III.
149 TR.P.III. – IIII.
150 TR.P.IIII. – V.
151 TR.P.V. – VI.
152 TR.P.VI. VII.
153 TR.P.VII. – VIII.
154 TR.P.VIII. – VIIII.
155 TR.P.VIIII. – X.
156 TR.P.X. – XI.
157 TR.P.XI. – XII.
158 TR.P.XII. – XIII.
159 TR.P.XIII. – XIIII.
160 TR.P.XIIII. – XV.
161 TR.P.XV. – XVI. IMP. COS.III AVGVSTVS. P.M.
162 TR.P.XVI. – XVII.
163 TR.P.XVII. – XVIII. IMP.II.
164 TR.P.XVIII. – XVIIII. ARMENIACVS.
165 TR.P.XVIIII. – XX. IMP.III.
166 TR.P.XX. – XXI. IMP.IIII. PARTH.MAX.MEDICVS. P.P.
167 TR.P.XXI. – XXII.
168 TR.P.XXII. – XXIII. IMP.V.
169 TR.P.XXIII. – XXIIII.
170 TR.P.XXIIII. – XXV.
171 TR.P.XXV. – XXVI. IMP.VI.
172 TR.P.XXVI. – XXVII.
173 TR.P.XXVII. – XXVIII.
174 TR.P.XXVIII. – XXVIIII. IMP.VII.
175 TR.P.XXVIIII. – XXX. IMP.VIII. GERM. SARM.
176 TR.P.XXX. – XXXI.
177 TR.P.XXXI. – XXXII. IMP.VIIII.
178 TR.P.XXXII. – XXXIII.
179 TR.P.XXXIII. – XXXIIII. IMP.X.
180 TR.P.XXXIIII.
Aurelius became TR.P.II. on December 10th, 147 AD. His tribunician power was subsequently renewed each year on that date.
---
Monetary System
Monetary reform under Marcus Aurelius was a steady yet gradual currency improvement. The Silver denarius between 161-165 AD maintained a fineness of 77.5%. This gradually increased to 80% between 165 and 169 AD. However, a decline seems to have begun in 170, with the silver content dropping to 78% through 174 AD. During the period of 175-179 AD, the silver content rose only marginally to 78.5%.
---
As Caesar

Mints: Rome
Obverse Legends:
AVRELIVS CAESAR AVG. PII F
AVRELIVS CAESAR AVG . PII F . COS.
AVRELIVS CAESAR AVG. PII FIL.
AVRELIVS CAES . ANTON. AVG. PII F.
AVRELIVS CAESAR ANTONINI AVG . PII FIL.
Portrait Styles
Bare-head right
Bare-head draped and/or cuirassed bust right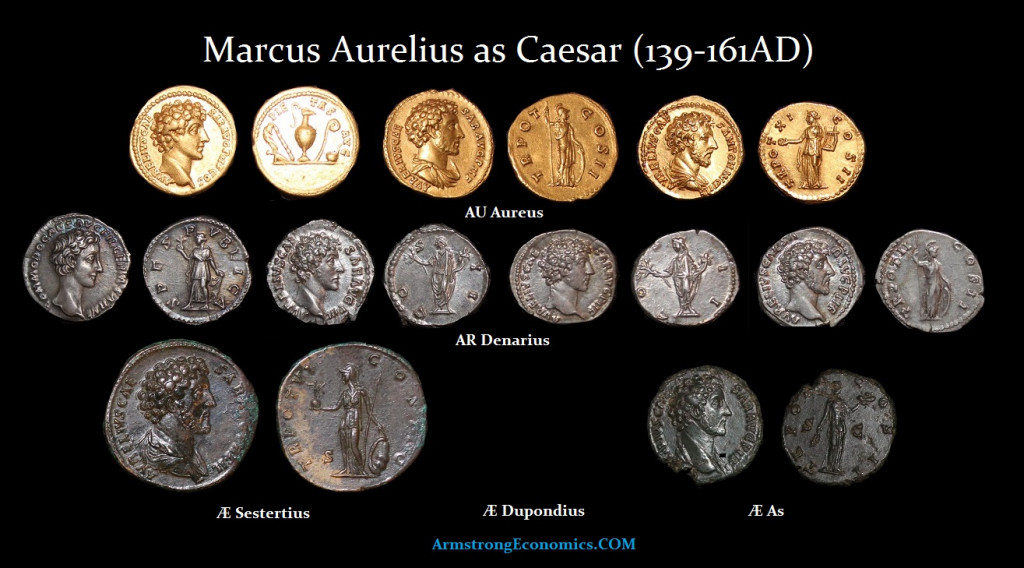 DENOMINATIONS
AU Aureus (7.23 grams)
AU Quninarius (3.5 grams)
AR Denarius (3.36 grams)
Æ Sestertius (23.9 grams)
Æ Dupondius (12.5 grams)
Æ As (9.8 grams)
---
Marcus Aurelius as Caesar with Antoninus Pius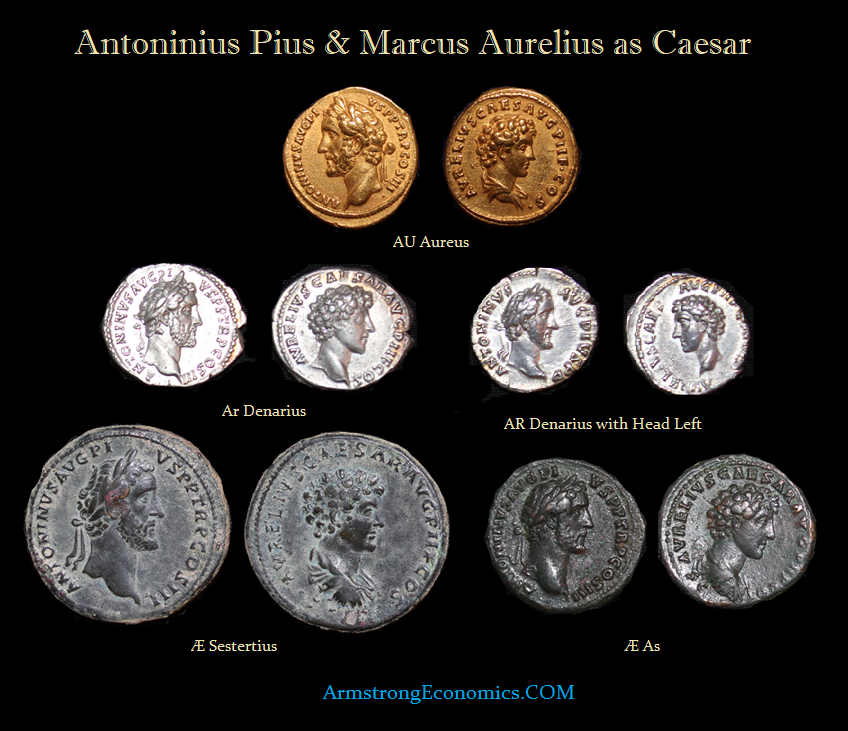 DENOMINATIONS
AU Aureus (7.23 grams)
AU Quninarius (3.5 grams)
AR Denarius (3.36 grams)
Æ Sestertius (27.0 grams)
Æ Dupondius (12.87 grams)
Æ As (12.5 grams)
NOTE: It is virtually impossible to guarantee that any dupondius was issued with Marcus Aurelius as Caesar, with the exception of those struck with Antoninianus displaying the dupondius marking of a radiate crown worn by Antoninianus Pius.
---
As Augustus
Obverse Legends:
M. ANTONINVS AVG . ARMENIACVS.
M . ANTONINVS AVG . GERM. SARM.
M . ANTONINVS AVG . TR . P. XXIII. (-XXIX).
M . AVREL . ANTONINVS AVG.
M . AVREL. ANTONINVS AVG . ARM . PARTH . MAX.
M . AVREL . ANTONINVS AVG . ARMENIACVS P. M.
IMP . M . ANTONINVS AVG.
IMP. M . AVREL. ANTONINVS AVG.
IMP.C,AES.M.AVREL.ANTONINVSAVG.P.M.
Portrait Styles
Laureate head right
Laureate draped and/or cuirassed bust right
DENOMINATIONS
AU Aureus (7.23 grams)
AU Quninarius (3.5 grams)
AR Denarius (3.36 grams)
AR Quinarius
Æ Sestertius (23.9 grms)
Æ Dupondius (11.53 grams)
Æ As (13.08 grams)
Æ Semis (6.3 grams)
Æ Quadrans (3.6 grams)
---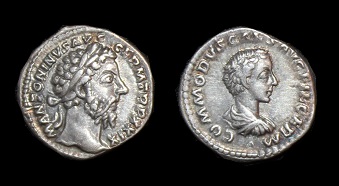 Marcus Aurelius with Commodus
DENOMINATIONS
AR Denarius (3.36 grms)
---
200th Year Anniversary of the Battle of Actium
AR Denarius (3.33 grams)
---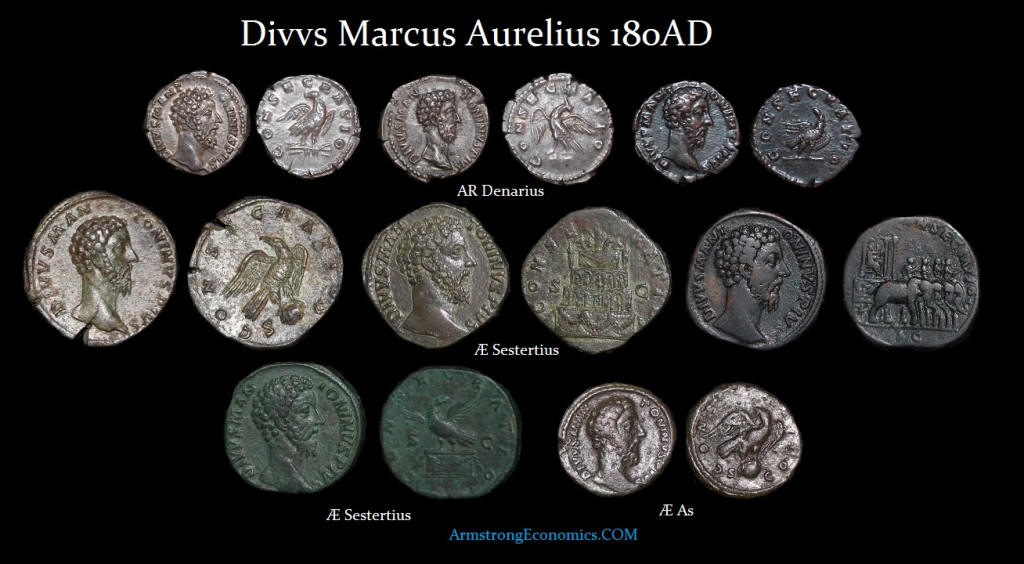 Divvs Marcus Aurelius died 180AD
Obverse Legends:
DIVVS M ANTONINVS PIVS.
Portrait Styles
Bear head right
DENOMINATIONS
AU Aureus (7.23 grms)
AR Denarius (3.36 grms)
Æ Sestertius (23.9 grms)
Æ As (Divvs struck by Commodus)
---
Colonial Issues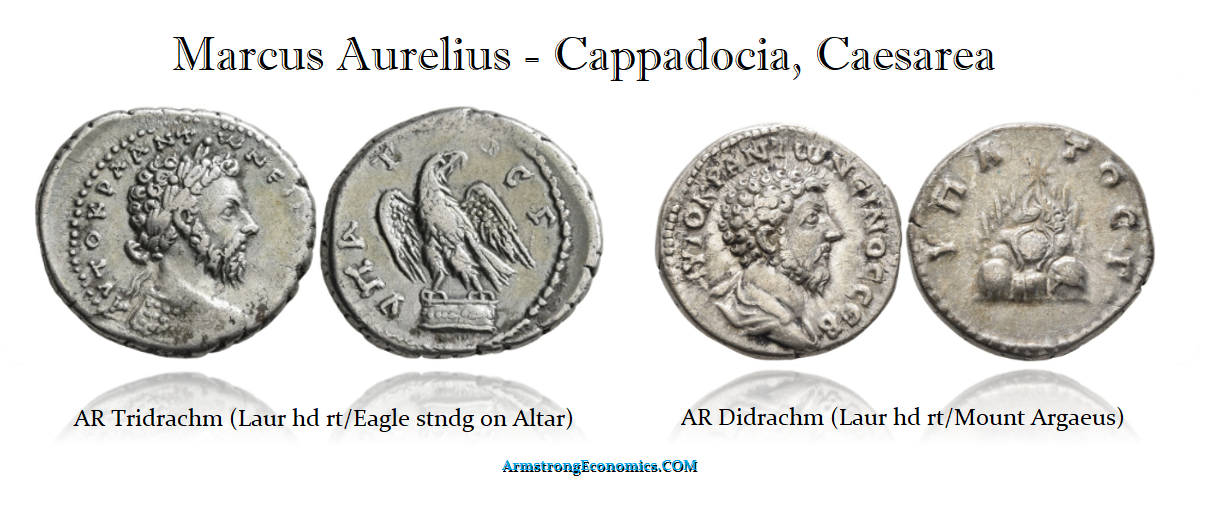 CAESAREA
AR Tridrachm (Laur hd rt/Eagle stndg on Altar) (9.65 grams)
AR Didrachm (6.83 grams)
AR Drachm
ANTIOCH, Syria
AR Tetradrachm (Syria)
EGYPT
AR Tetradrachm (Egypt) (11.87 grams)
AR Tetradrachm w/Lucius Verus (Egypt)
AR Tetradrachm w/Faustina Jr (Egypt)