Commodus
177-192 AD
---
L. Aelius Aurelius Commodus was the son of M. Aurelius and Faustina Junior and was born at Lanuvium inA.D. 161. He was made Augustus and co-emperor in A.D. 177 and accompanied his father to the second Germanic War. On the death of Aurelius in 180, Commodus concluded a peace with the German and Sarmatian tribes and hurried back to Rome. There were great hopes that he might continue the fine tradition of Antonine government, but he proved a most unworthy son of a noble father. He soon retired from public life and left the administration of the Empire to a succession of favorites – first Perennis, then Cleander and finally Laetus. During his last years he seems to have become quite insane: he disgraced the purple by fighting wild beasts in the amphitheaterheatre, and his megalomania caused him to believe himself the reincarnation of Hercules and to demand the worship of the people. After numerous unsuccessful plots against his life, he was eventually murdered on the night of December 31st, A.D. 192.
---
Commodus as Hercules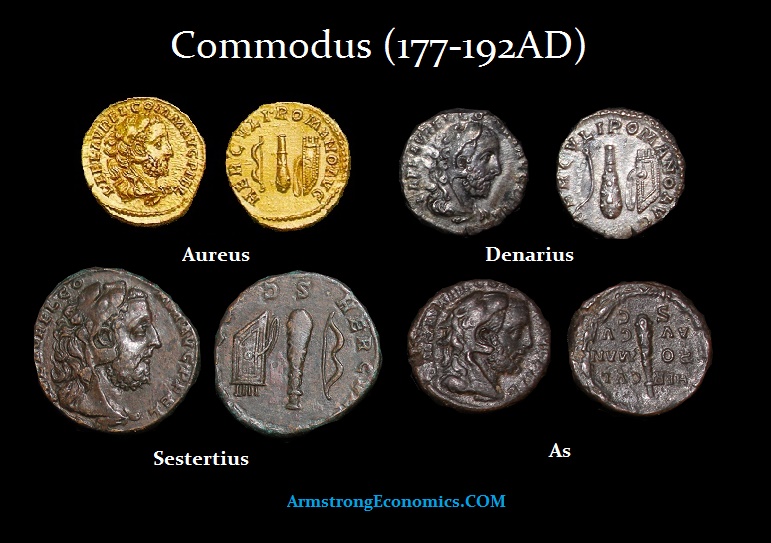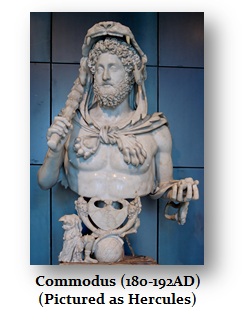 Towards the later period of his reign, Commodus may have believed himself to be the reincarnation of Hercules. There is speculation of his intent by creating depictions of himself as a godlike figure. Commodus even named the month of October after Hercules. This lasted only during his reign.
In addition to sculpture, he also issued a series of coins picturing himself as Hercules in gold, silver and bronze. Here is a gold aureus which had been mounted as jewelry during the 3rd century. It was part of the famous Arras hoard discovered in 1922 in France.
---
Titles and Powers, A.D. 175-192. As Augustus
AD Tribunician Power Imperatorial Consulship Other Titles
Acclamation
175 CAESAR. GERM. SARM.
176 TR.P. (?)
177 TR.P. (later TR.P.II.) IMP. IMP.II. COS. AVGVSTVS. P.P.
TR.P.III.
178 TR.P.III. – 'III.
179 TR.P.IIII. – V. IMP.III. COS.II.
180 TR.P.V. – VI. IMP.IIII. P.M.
181 TR.P.VI. – VII. COS.III.
182 TR.P.VII. – VIII. IMP.V.
183 TR.P.VIII. – VIIl. IMP.VI. COS.IIII. PIVS.
184 TR.P.VIIII. – X. IMP.VII. BRIT.
185 TR.P.X. – XI. FELIX.
186 TR.P.XI. XII. IMP.VIII. COS.V.
187 TR.P.XII. – XIII.
188 TR.P.XIII. – XlIII.
189 TR.P.XIIII. – XV.
190 TR.I'.XV. – XVI. COS.VI.
191 TR.P.XVI. – XVII.
192 TR.P.XVII. – XVIII. COS.VII.
Based upon the evidence, Commodus would seem to have received the tribunician power either very late in 176 AD sometime after December 10th or in early in 177 AD. In either case, the coinage of Commodus show him as TR.P. early in 177, but then suddenly he changes to TR.P.II. and advances to TR.P.III on December 10th. The only explanation that appears at least likely is that after the TR.P. issue of perhaps late 176 or early 177, it was decided to put back the date on which he had first received the tribunician power to before December 10th, 176 AD. For what purpose one cannot be certain. It simply appears that some backdating scheme arose. Subsequently his tribunician power was renewed each year on December 10th.
---
Monetary System

As Caesar 175-177 AD under M. Aurelius
Mints:
Obverse legends: 
COMMODO CAES. AVG. FIL . GERM. SARM.,
Obverse Portrait Style:
Bare head right
Bare head draped and cuirassed bust right
DENOMINATIONS
AU Aureus (6.54 grams)
AR Denarius
AE Sesterius
AE Dupondius
AE As
---

Joint Emperor With M. Aurelius, 177-180 AD
Obverse legends:

L . AVREL . COMMODVS AVG.
L . AVREL . COMMODVS AVG . TR . P.III.
L . AVREL . COMMODVS AVG . TR. P.IIII.
IMP. L . AVREL . COMMODVS AVG. GERM . SARM.
Obverse Portrait Styles:
Laurate head right
Laurate bust right draped
Laurate bust right draped & cuirassed
DENOMINATIONS
AU Aureus (6.54 grams)
AU Quinarius (4.61 grams)
AR Denarius
AR Quinarius
AE Sesterius
AE Dupondius
AE As
---
As Sole Emperor, 180-192 AD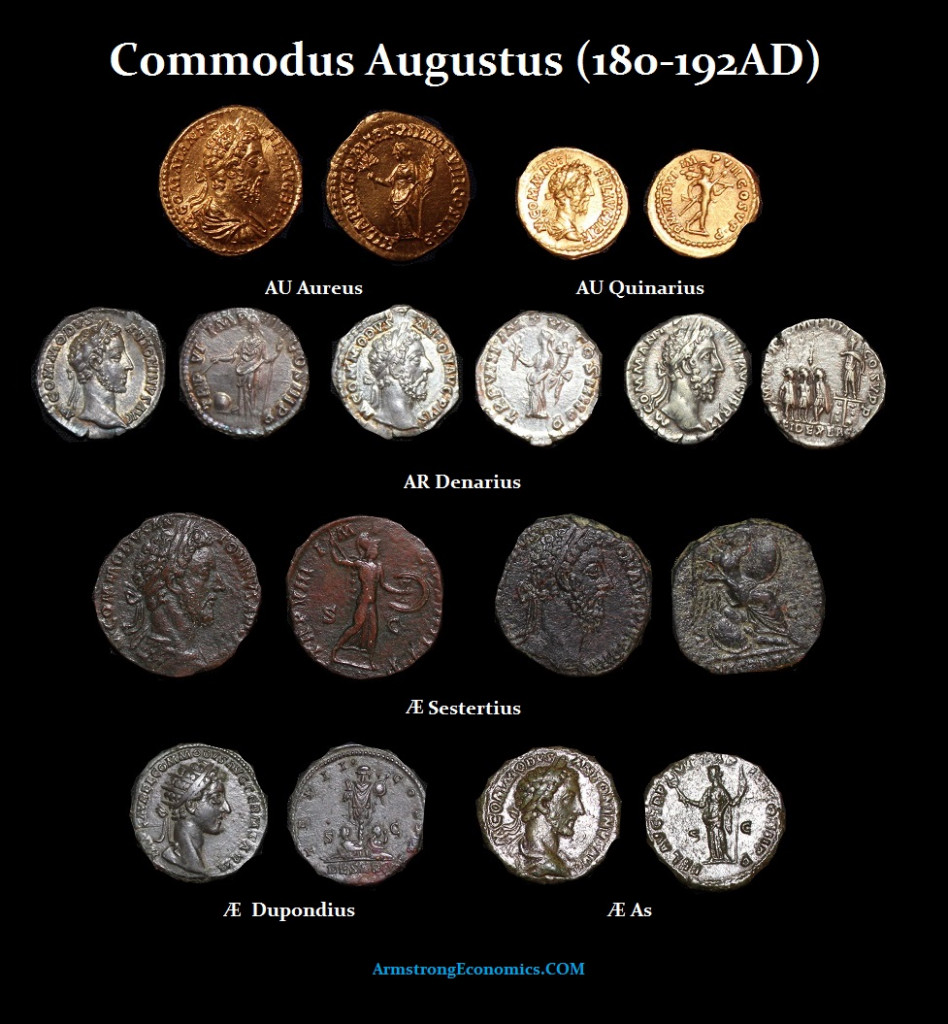 Obverse legends:
M.COMM.ANT.P.FEL.AVG.ERIT.
M.COMM.ANT.P.REL.AVG.BRIT.P.P.
M.COMMOD.ANT.P.PELIXAVG.BRIT.P.P.
M.COMMODVS ANT . P. FELIX AVG . BRIT.
M.COMMODVS ANTONINVS AVG.
M.COMMODVS ANTONINVS AVG . PIVS.
DENOMINATIONS
AU Aureus (6.54 grams)
AU Quinarius (4.61 grams)
AR Denarius
AR Quinarius
AE Sesterius
AE Dupondius
AE As