Commodus
177-192 AD
---
Lucius Aelius Aurelius Commodus was the son of Marcus Aurelius and Faustina Junior and was born at Lanuvium in 161 AD. This meant that he was the first biological son of an emperor since the time of Vespasian. Commodus was made Augustus and co-emperor in 177AD and accompanied his father to the Second Germanic War.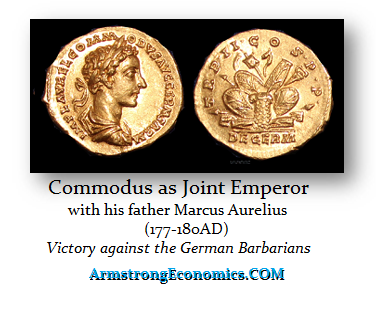 This gold aureus was issued in 177 AD when Commodus became joint-emperor. It portrays a German victory against the barbarians. However, on his father's death in 180AD, Commodus concluded peace with the German and Sarmatian tribes and hurried back to Rome. There were great hopes that he might continue the fine tradition of his father's administration, but he proved to be entirely opposite of his father. Commodus soon retired from public life and left the administration of the Empire to a succession of favorites – first Perennis, then Cleander, and finally Laetus. Not until he exercised arbitrary powers.
Edward Gibbon wrote of him in his Decline and Fall of the Roman Empire that each
"distinction of every kind soon became criminal. The possession of wealth stimulated the diligence of the informers; rigid virtue implied a tacit censure of the irregularities of Commodus; important services implied a dangerous superiority of merit; and the friendship of the father always insured the aversion of the son. Suspicion was equivalent to proof; trial to condemnation. The execution of a considerable senator was attended with the death of all who might lament or revenge his fate; and when Commodus had once tasted human blood, he became incapable of pity or remorse"
(Book 1, Chapter 4).
Some conspiracies were hatched against Commodus. The first conspiracy was in 182AD, involving his sister, Lucilla, who was ten years his senior.  The attempt failed, and the two assassins were executed. Lucilla was exiled but later executed. Another involved a close confidant  Saoterus, the hated chamberlain. Commodus apparently took this conspiracy even more seriously than that of his sister. Publius Salvius Julianus, the son of the famous jurist Salvius Julianus, led this. Salvius and another adviser to Commodus, Paternus, were both executed, along with several other prominent consuls and senators. The future emperor Didius Julianus was a relative of Salvius Julianus. He was dismissed from the governorship of Germania Inferior.
War broke out in Dacia in 182 AD. Not much history has survived. We know that two generals involved in the engagement distinguished themselves in Dacia. Both would become future contenders for the throne upon the death of Commodus – Clodius Albinus and Pescennius Niger. In 182 AD, the Romans won a major campaign in Dacia, followed by an impressive victory in Britain in 183 AD. What is curious is that his coinage emphasizes the victory in Britain as seen in the sestertius.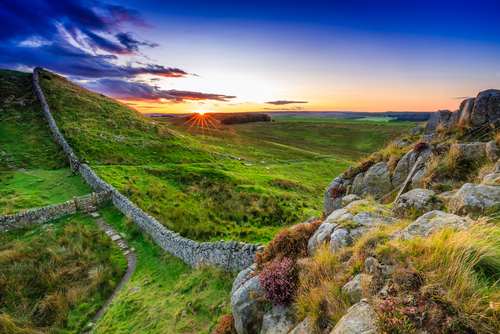 During 184AD in Britain, the governor Ulpius Marcellus re-advanced the Roman frontier northward to the Hadrian's Wall, which separated Scotland from England. The legionaries apparently revolted against his harsh discipline and acclaimed another legate, Priscus, as emperor. However, Priscus refused to accept their acclamation. This event appears to have been commemorated on this sestertius illustrated here. Eventually, the governorship of Britain was handed to another future contender upon the death of Commodus – Pertinax.
Commodus Declares he is a Demigod and Pictures himself as Hercules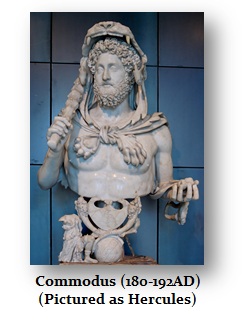 During his last years, he seems to have gone completely mad. For fourteen days before he was assassinated at the end of 192AD, Commodus put on one of the most lavish and spectacular gladiatorial games Rome had ever seen. Commodus himself was the star attraction. This seems to be when he believed himself to be the reincarnation of Hercules and issued coins picturing him as such.  He had countless statues placed around the empire portraying him in the guise of Hercules as a demigod and protector of the empire and a warrior who fought against men and beasts. He even went as far as to claim he was now the son of Jupiter, the supreme god of the Roman pantheon. He was no longer the son of the honorable Marcus Aurelius.
It was the talk of the empire that this spectacle of an Emperor performing in the arena as a gladiator. Commodus killed various beasts, including a rhinoceros keeping in the spirit that he was Hercules – reincarnated. Killing the wild beats was just the warm-up. The main event was to be his fight as a gladiator. This was a scandal, for it disgraced the emperor's office appearing in the Colleseum. He then demanded that the people had to worship him as a god. It did not end even there. Commodus renamed the calendar, declaring that all the months of the year were to be renamed corresponding to his twelve names:
Lucius, Aelius, Aurelius, Commodus, Augustus, Herculeus, Romanus, Exsuperatorius, Amazonius, Invictus, Felix, and Pius.
Commodus went still further. He decreed that all the legions were to be renamed. Commodianae, the fleet which imported grain from Africa was termed Alexandria Commodiana Togata. Even the Senate was to be renamed the Commodian Fortunate Senate. These insane decrees were instantly abolished upon his death when he was assassinated on December 31st, 192AD.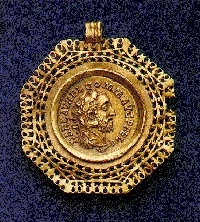 During 191 AD, the city of Rome was extensively damaged by a fire. This was the second major fire in Rome that raged for several days. Many public buildings were destroyed, including the Temple of Pax, the Temple of Vesta, and parts of the imperial palace. Commodus took this as an opportunity to declare himself the new Romulus and ritually re-founded Rome, renaming the city Colonia Lucia Annia Commodiana. Thus, he presented himself as the fountainhead of the Empire, Roman life, and religion. He also had the head of the Colossus of Nero adjacent to the Colosseum replaced with his portrait, gave it a club, placed a bronze lion at its feet to make it look like Hercules Romanus, and added an inscription boasting of being "the only left-handed fighter to conquer twelve times one thousand men." That was probably the final straw.
Here is a gold aureus that had been mounted as jewelry during the 3rd century. It was part of the famous Arras hoard discovered in France on May 2nd, 1922. The actual discovery was in the village of Beaurains, which lies just to the south of the larger town of Arras in Northern France. A group of Belgian laborers working at the village's northern edge stumbled upon a hoard of over four hundred coins, approximately 40 late Roman medallions, and a variety of cameos and jewelry buried in a silver vase protected by a clay pot. Unfortunately, these valuable objects were left unprotected during the first night after their discovery, and many were stolen. The coin of Commodus, as Hercules mounted, was in that hoard.
---
The Debasement of Commodus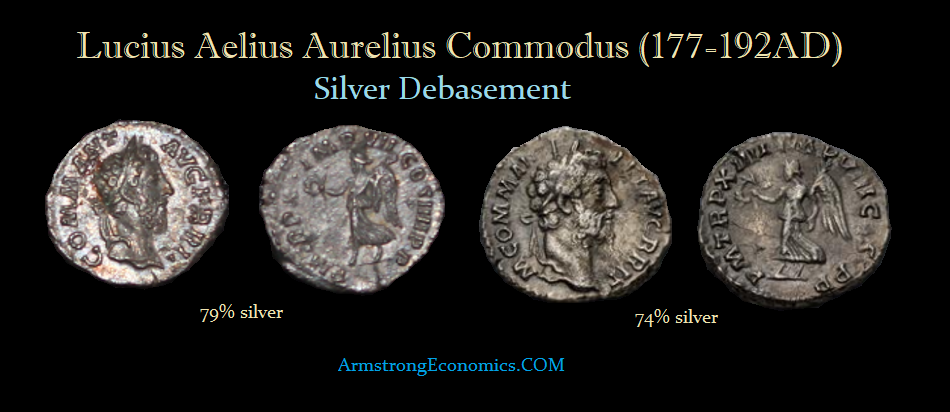 Upon his ascension, Commodus devalued the Roman currency. He reduced the weight of the denarius from 96 per Roman pound to 105 per Roman pound (3.85 grams to 3.35 grams). He also reduced the silver purity from 79 percent to 76 percent – the silver weight dropping from 2.57 grams to 2.34 grams. In 186, he further reduced the purity and silver weight to 74 percent and 2.22 grams, respectively, being 108 to the Roman pound. His reduction of the denarius during his rule was the largest since the empire's first devaluation during Nero's reign.
---
Titles and Powers, A.D. 175-192. As Augustus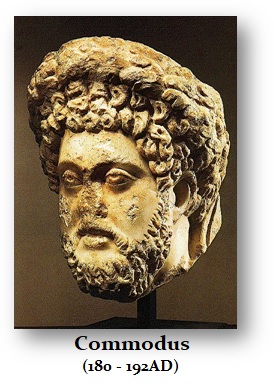 AD Tribunician Power Imperatorial Consulship Other Titles
Acclamation
175 CAESAR. GERM. SARM.
176 TR.P. (?)
177 TR.P. (later TR.P.II.) IMP. IMP.II. COS. AVGVSTVS. P.P.
TR.P.III.
178 TR.P.III. – 'III.
179 TR.P.IIII. – V. IMP.III. COS.II.
180 TR.P.V. – VI. IMP.IIII. P.M.
181 TR.P.VI. – VII. COS.III.
182 TR.P.VII. – VIII. IMP.V.
183 TR.P.VIII. – VIIl. IMP.VI. COS.IIII. PIVS.
184 TR.P.VIIII. – X. IMP.VII. BRIT.
185 TR.P.X. – XI. FELIX.
186 TR.P.XI. XII. IMP.VIII. COS.V.
187 TR.P.XII. – XIII.
188 TR.P.XIII. – XlIII.
189 TR.P.XIIII. – XV.
190 TR.I'.XV. – XVI. COS.VI.
191 TR.P.XVI. – XVII.
192 TR.P.XVII. – XVIII. COS.VII.
---
Based upon the evidence, Commodus would seem to have received the tribunician power either very late in 176 AD, sometime after December 10th or early in 177 AD. In either case, the coinage of Commodus shows him as TR.P. early in 177, but then suddenly, he changes to TR.P.II. and advances to TR.P.III on December 10th. The only explanation that appears at least likely is that after the TR.P. issue of perhaps late 176 or early 177, it was decided to put back the date on which he had first received the tribunician power to before December 10th, 176 AD. For what purpose, one cannot be certain. It simply appears that some backdating scheme arose. Subsequently, his tribunician power was renewed each year on December 10th.
---
Monetary System

As Caesar 175-177 AD under M. Aurelius
Mints:
Obverse legends: 
COMMODO CAES. AVG. FIL . GERM. SARM.,
Obverse Portrait Style:
Bare head right
Bare head draped and cuirassed bust right
DENOMINATIONS
AU Aureus (6.54 grams)
AR Denarius
AE Sestertius
AE Dupondius
AE As
---

Joint Emperor With M. Aurelius, 177-180 AD
Obverse legends:

L . AVREL . COMMODVS AVG.
L . AVREL . COMMODVS AVG . TR . P.III.
L . AVREL . COMMODVS AVG . TR. P.IIII.
IMP. L . AVREL . COMMODVS AVG. GERM . SARM.
Obverse Portrait Styles:
Laureate head right
Laurate bust right draped
Laurate bust right draped & cuirassed
DENOMINATIONS
AU Aureus (6.54 grams)
AU Quinarius (4.61 grams)
AR Denarius
AR Quinarius
AE Sestertius
AE Dupondius
AE As
---
As Sole Emperor, 180-192 AD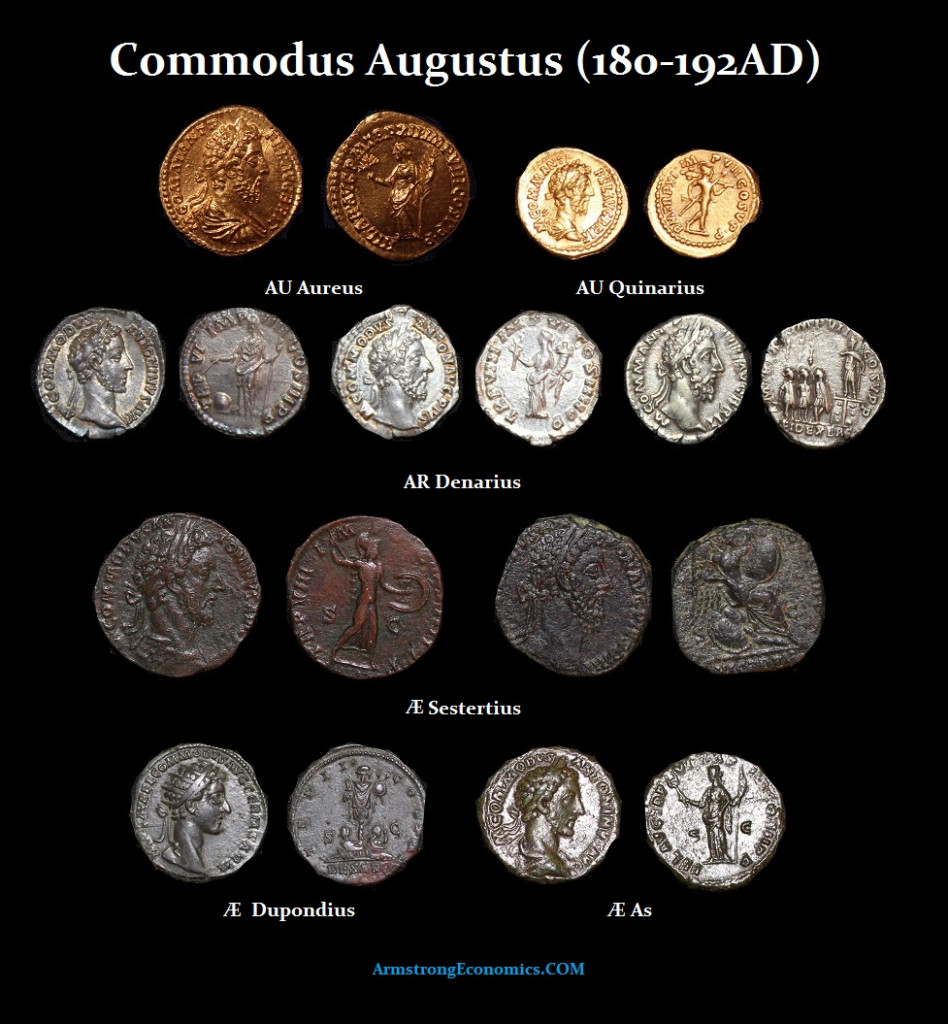 Obverse legends:
M.COMM.ANT.P.FEL.AVG.ERIT.
M.COMM.ANT.P.REL.AVG.BRIT.P.P.
M.COMMOD.ANT.P.PELIXAVG.BRIT.P.P.
M.COMMODVS ANT . P. FELIX AVG . BRIT.
M.COMMODVS ANTONINVS AVG.
M.COMMODVS ANTONINVS AVG . PIVS.
DENOMINATIONS
AU Aureus (6.54 grams)
AU Quinarius (4.61 grams)
AR Denarius
AR Quinarius
AE Sestertius
AE Dupondius
AE As
---
Colonial