Servius Sulpicius Galba
 68 – 69 AD

Born 3 BC – died 69 AD, age 72
---
Servius Sulpicius Galba was born in 3 BC. He had served Rome as a very able and well-respected administrator. He had been appointed a governor of Hispania in 60 AD under Nero (54-68AD). There was a civil war when Nero died in 68AD without an heir to continue the Julio-Claudian Dynasty. However, at first, the contender, Gaius Julius Vindex (25–68AD), a Roman governor in the province of Gallia, was of a noble Gallic family of Aquitania. He had been granted senatorial status under Claudius (37-54 AD). Vindex orchestrated a rebellion against Nero in Gaul on the anniversary of the death of Nero's mother, Agrippina the Younger, in 68AD. Vindex was the first to rebel against Emperor Nero while still alive. He most likely sought to replace Nero with a better emperor. He issued coins but did not display his portrait. Many of his followers probably had the idea of restoring the Republic.
Vindex offered the leadership of the revolt to Servius Sulpicius Galba (68-69AD), then governor of Hispania Tarraconensis. Galba's great-grandfather was an assassin of Julius Caesar (100-44BC) when he joined the conspiracy with Brutus and Cassius and was condemned to death for his conspiracy to assassinate Caesar. It is most likely that Vindex chose Galba because of his family connections against Julius Caesar.
Shortly afterward, in rebellion against Nero, Galba rejected the title "General of Caesar" in favor of "General of The Senate and People of Rome." The Spanish legions at Carthago Nova hailed him, imperator, in April of the same year. The title was cautiously refused, but Galba did declare himself the legatus of the senate and people of Rome. Just a month later, Galba's confidence would be shaken by the crushing defeat of Vindex near Besançon by the general Lucius Verginius Rufus, governor of Germania Superior.
As Galba began to march toward Rome, Nero attempted to flee, but with no escape possible, he committed suicide on June 9yh, 68AD. However, when the Senate summoned Galba to accept the "Purple," he was already at 71.
The economy of Rome was in shambles, and inflation was rising out of fear of the future, given the end of the Julio Claudian Dynasty. Galba's advanced age failed to inject confidence into the economy, and he was certainly in no shape to take on anyone who might resist his rise to the imperial office.
Galba, nonetheless, attempted to bring the economy into line. He immediately began a reform program that was anything but popular. Galba required strict discipline among the troops and the Praetorian Guard in military affairs. Unfortunately, these reforms made Galba increasingly unpopular with the army, especially with the Praetorians.
Being of advanced age, Galba needed an heir. Marcus Salvinus Otho had been the governor of Lusitania. He initially supported Galba, expecting to become his successor to the throne. Instead, Galba selected Lucius Calpurnius Piso, and Otho's plans were radically changed.
On January 2nd, 69 AD, the legions of Lower Germany proclaimed Aulus Vitellius as Imperator. Marcus Salvius Otho conspired against Galba and convinced the Senate to declare himself Emperor. Otho then had Galba and Piso assassinated in the Forum on January 15th, 69 AD, ending Galba's reign after only six months.
---
Monetary System
Mints: Rome, Lugdunum, Carthage, Narbo, Tarraco (Spain), Vienna
Obverse Legends:
SER GALBA IMP
SER GALBE IMPERATOR
SER GALBA IMP CAESAR AVG
SER GALBA IMP CAESAR AVG P M TR P
SER GALBA IMP CAESAR AVG TR P
SER SVLPI GALBA IMP CAESAR AVG P M TR P
IMP SER GALBA AVG
IMP SER GALBA AVG TR P
IMP SER GALBA CAESAR AVG
IMP SER GALBA CAES AVG TR P
IMP SER SVLPIC GALBA CAES AVG TR P
NOTE: The portraits of Galba initially portrayed him with a bare head either facing right or left. Eventually, Galba's portrait began to incorporate the familiar laurel wreath of the emperor.
---
DENOMINATIONS
AU Aureus (7.3 grams)
AR Denarius (3.42 grams)
AR Quinarius
AE Sestertius
AE Dupondius
AE As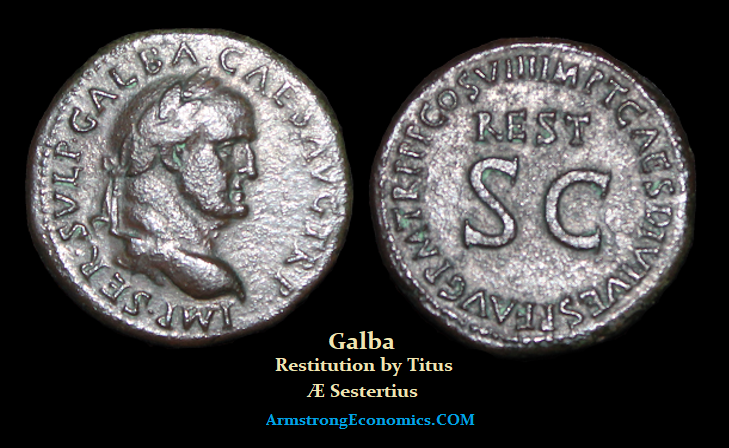 Posthumous Coinage by Titus
AE Sestertius
COLONIAL ISSUES

We also find that tetradrachms were issued in the name of Galba in Syria (Antioch) and Egypt. This demonstrated the broad support that Galba had gathered against Nero throughout the empire.
AR Tetradrachm (Antioch, Syria)
AE Billion Tetradrachm (Egypt)
---
The Monetary History of the World
 © Martin A. Armstrong